A Music Lover's Guide to Education, Jobs, and Salaries
Careers in Music
Last Updated: 4/29/2022
Advertising & Editorial Disclosure
Whether composing an orchestral piece, balancing sound levels, instructing a child in piano, or using an instrument for therapy, today's music makers and teachers have a rich professional landscape for building their careers. Music attracts both creative and business-minded individuals, creating a dynamic environment where art can flourish and be distributed in a variety of mediums. If you're considering a career in music, this guide will help you understand the breadth of opportunities available, educational expectations of employers, and average salaries within the field.
Music Career Paths
Once called the universal language of mankind by H.W. Longfellow, music has the ability to transcend barriers and provide soundtracks for both everyday life and pivotal moments. Many stories of a mundane activity or a life-changing experience can be remembered by a song on the radio, a band playing in the background, or a specially crafted playlist. A career in music allows creative types with a good ear to combine their talents and passions to make a living. While artists and bands are the most high-profile professionals in music, the field is overflowing with roles suited to different personality types, interests, skills, and educational levels.
Entry-Level Careers
BROADCAST AND ENGINEERING TECHNICIANS
These professionals set up, operate, and maintain electrical equipment to make sure everything sounds crisp and clear. Broadcast and engineering technicians may assist a producer in a recording studio, synchronize dialogue for a television show, or produce audio, video, and lights for a concert.

JOB OUTLOOK (2018 TO 2028): 8%

MINIMUM EDUCATION REQUIREMENTS:
Audio technician roles typically require a certificate or non-degree award, and engineering technicians should have an associate degree.
MUSICIANS
Whether a songwriter, session guitarist, touring drummer or solo singer, the possibilities for individuals who can play an instrument are innumerable. Work settings are wide-ranging, and musicians may find themselves in recording studios, orchestras, cruise ships, or touring. Some mainly focus on playing in the studio, while others enjoy performing for a live audience.

JOB OUTLOOK (2018 TO 2028): ~0%

MINIMUM EDUCATION REQUIREMENTS:
No formal education required.
MUSICAL INSTRUMENT REPAIRERS AND TUNERS
With a great ear for how instruments should sound, repairers and tuners evaluate how an instrument plays when brought to them before identifying the problem. If the instrument must be repaired, they are trained in how to replace parts or create new ones. If it is out of tune, they modify string tension, adjust drum skin tautness, or use electronic tuning devices. Professionals in this field may also work in instrument restoration.

JOB OUTLOOK (2018 TO 2028): 1%

MINIMUM EDUCATION REQUIREMENTS:
Most have a postsecondary certificate.
Mid to Senior-Level Careers
COMPOSERS AND CONDUCTORS
Composers write pieces of music for a variety of productions, while conductors lead a group of musicians in playing a piece. Composers can be found writing music for leading pop acts, movie scores, or commercials, while conductors are often employed by symphonies or orchestras. Both roles frequently allow much autonomy and flexibility in scheduling, but may require travel.

JOB OUTLOOK (2018 TO 2028): ~0%

MINIMUM EDUCATION REQUIREMENTS:
Bachelor's degree may be required for choral music, while leading conductors often have master's degrees in music theory or composition.
MUSIC THERAPIST
Music therapists use their understand of human emotion and behavior to improve a patient's cognitive development, well-being, and socialization through music.

JOB OUTLOOK (2018 TO 2028): 12%

MINIMUM EDUCATION REQUIREMENTS:
Bachelor's degree in recreational therapy with an emphasis in music. Increasingly, master's degrees are preferred.
Related Occupations
MONEYGEEK EXPERT TIP
JOB OUTLOOK (2018 TO 2028): 11% (Number applies to all postsecondary disciplines)

MINIMUM EDUCATION REQUIREMENTS:
Master's degree in music composition or theory. Some institutions or advanced positions may require a doctoral degree
STAGE DIRECTORS
JOB OUTLOOK (2018 TO 2028): 5%

MINIMUM EDUCATION REQUIREMENTS:
Bachelor's degree in film, music, screenwriting, or a related area. Some jobs may require an MFA.
DANCERS AND CHOREOGRAPHERS
JOB OUTLOOK (2018 TO 2028): -3% (due to a high level of intense competition)

MINIMUM EDUCATION REQUIREMENTS:
Professional dancers usually start taking lessons between the ages of five and eight. Depending on the program, some dance groups may require a bachelor's degree in dance.
PRODUCERS
JOB OUTLOOK (2018 TO 2028): 5%

MINIMUM EDUCATION REQUIREMENTS:
Bachelor's degree in cinematography, film, communication, or a similar field.
Music Salaries
Salaries in the music industry can vary dramatically based on the position. The graph below shows salary trends for various music careers.
How to Have a Successful Music Career
Music attracts a spectrum of artists and professionals who are passionate about this art form. In general, most people who are drawn to a career in music have some of the following traits:
A love of music (or the arts)
This one is obvious, but oh so true. Whether teaching a class full of middle school students or listening to raw tracks close to 100 times to ensure sound levels are perfect, people who want to make it in this industry have a deep and abiding love of music.

Art for art's sake
While there are certainly lucrative roles within the music industry, most people don't join the field for the money. An unerring passion for the art behind a song or composition is a driving force for those who enter - and stay - in the field

Dedication
Ask anyone who has made it in music and they'll tell you success doesn't come overnight. An alluring field for many, the industry is structured in such a way that experience and persistence are the driving factors for making it in music.

People person
The importance of networking can't be emphasized enough, and those who make it to the top do so with a team around them. Think about the GRAMMY Awards: when an artist steps up to receive his or her award, he or she has a laundry list of people to thank. If you don't sincerely enjoy being around people - whether it's your audience, fellow musicians, or your A&R team - and collaborating on projects, music probably isn't for you.
Required and Preferred Skills
Skills
1
Active listening
Musicians must be able to pick out notes, keys, and chord progressions, often within a layered production of music.
2
Charisma
If playing to a live audience, the best musicians are able to engage their listeners. It's one thing to stand on a stage and sing or play an instrument, but it takes charisma to truly entertain.
3
Coordination
Most instruments demand great coordination, as each hand - or in the case of a wind instrument, the mouth - is required to move independently of the other.
4
Reading music
Being able to read charts and sheet music can be an advantage in quickly learning a new piece or understanding how a song is meant to be performed. Some musicians are adept at playing by ear, though.
Tools / Technology
1
Instruments
Ranging from flutes and guitars to oboes and drums, a musician's instrument allows them to convey sound via chords and notes.
2
Recording gear
A raft of equipment goes into the recording process, and music producers must know how to pick the right microphones, use analog and digital consoles, and incorporate technologies such as monitors and voice-effect software to produce top-notch sound.
3
Mixing software
Pro Tools, Waves, and Logic are common software packages that allow mixers to consolidate individually recorded tracks into a seamless song. Musicians use these tools to balance track levels, even out vocals or instruments, and correct improper notes.
4
Live production technology
Digital audio workstations allow production specialists to monitor sound levels, incorporate additional tracks that can't be played from the stage, and enhance the overall sound quality of a live performance. Common software includes Ableton Live, MainStage, MIDI Maestro, and Pro Tools.
Preparing for Your Music Career: Degree Programs
Because music is a form of art, the industry generally has looser education requirements than others. While composers, conductors, and music teachers are expected to hold a postsecondary degree, musicians and producers are often assessed on former work products or prior experience, which many argue is the most telling credential. Like other forms of art, the best musicians started at a young age and showed great discipline in practicing regularly. As demonstrated in Malcolm Gladwell's 10,000-hour theory, practice leads to improvement and improvement leads to being noticed.
Still, colleges offer numerous areas of academic study for those interested in pursuing more formal education to prepare for a music career. Some common music degree programs include:
Certificates
Although many careers in music don't require a full two- or four-year degree, others may mandate a certificate or non-degree award. Many institutions - ranging from community colleges and trade schools to music conservatories - offer these types of educational programs throughout the country.
Some common music certificates include:
Arranging
Composing for Film and TV
Electronic Music Production
Live Sound Production
Music Theory
Instrumentation
Specializations
Students with specific musical interests can choose to concentrate their learning via a specialization. Whether focusing on a certain style of music - such as jazz - or a particular instrument - such as guitar - specializations abound to help students move from proficient to expert.
Some common specializations include:
Choral music
Often the backbone of a music education program, specializing in choral music helps future music teachers understand the methodology behind group lessons, pedagogy, and supervisory methods while also learning how to produce recitals and teach choral music theory. Some 42.6 million Americans currently have consistent experience singing in choruses, making this specialization a popular career choice.

Live music engineering
Students specializing in live music engineering are immersed in the finer points of live sound by exploring topics related to sound amplification, live mixing, acoustics, electronics, and ear training. Because concerts are still a favorite activity across the globe, there are many job prospects for those with this specialized knowledge. In 2018, 36 percent of all money spent in the music industry went to live events.

Voice or instrument
Musicians who complete this specialization not only gain a foundational knowledge of music and music theory but also delve deeply into the nuances of instrumentation and performance. Individual and group lessons are heavily used in the curriculum. Recitals, ensembles, and different styles of music also provide a holistic understanding of how an instrument can be used. The field looks promising for young musicians, with a $643 million increase in independent music revenue from 2017 to 2018.
Where do Musicians Work?
Musicians and others associated with music can be found in myriad settings thanks to the broad range of applications for music. Ranging from unstructured environments enjoyed by touring musicians to tenured roles for postsecondary music educators, the following list provides examples of a few places you may find these professionals.
Finding a Music Job
Reflecting on the sheer number of music careers available, there are a vast number of job boards for individuals on the hunt for a gig. While touring roles are still largely found through word of mouth, the following resources will help those aspiring to a job in music find a well-suited role.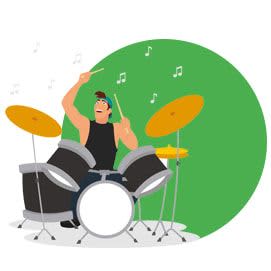 Music Internships
Depending on the area of music where you want to work, internships can be the best foot-in-the-door for getting hired. Internships aren't common for performing musicians, but countless music business types and audio engineering professionals can trace their first successes back to their days as an intern.
Examples of great internships related to music are below.
Location: Chicago
Students aspiring to work in the administrative or performance side of orchestration can take advantage of numerous symphony internships, such as those offered by the Chicago Symphony Orchestra. Six different types of roles are offered for interns, allowing them to focus on the area of most interest.
Location: Boston
Individuals hoping to work in music education have much to learn from an internship at NEC, which prides itself on providing a comprehensive experience. Interns learn about curriculum design, new research in music education, engaging community partners, and teaching in public schools throughout their semester-long experience.
Location: Los Angeles, New York, Chicago, Atlanta, Nashville,
As the owner of more than 30 record labels, Sony Music internships are wide-ranging and incredibly competitive. Whether looking to focus on the business side of the industry or the recording process, the breadth of options ensures students can find a program to fit their goals.
Location: One of the Academy's 12 chapter offices in Atlanta, Chicago, Florida, Los Angeles, Memphis, Nashville, New York, the Pacific Northwest, Philadelphia, San Francisco, Texas, or Washington D.C.
Interns spend one semester working part-time at a chapter office performing tasks related to event management, marketing, administration, education programs, membership, and database management. In addition to office tasks, interns frequently attend music events and have the opportunity to network with others in the field.
Location: New York, California, Chicago, and New Jersey
Serving as the parent organization for Madison Square Garden, Radio City Music Hall, the Beacon Theatre, and the Chicago Theatre, MSGC's student associate program gives interns a valuable opportunity to gain a wealth of experience and professional contacts.
Professional Associations & Organizations
Professional music associations abound and provide insider's knowledge about bands looking for a new member or upcoming tours seeking roadies, while also providing valuable networking opportunities. Some of the top music-related associations include:
About the Author
---
---