A Comprehensive Look at Jobs, Salary, and Educational Options
Military Careers
Last Updated: 11/24/2022
Advertising & Editorial Disclosure
While the primary focus of a military career is serving your country, it's also a way to develop skills that can transfer into a second career in the civilian world. It can be an ideal path and a good starting point for a future career, but the military culture is not for everyone. Take a closer look at the different jobs available, salary information, and education requirements for joining the military to determine if this option is the right choice for you.
Beginning a Career in Today's Military
For high school graduates still undecided about their future, enlisting in one of the military branches can be an excellent way to find their path. Besides the skills learned in various military specialties, service members gain a host of business and life skills, from making decisions under pressure to working as part of a team. Because the military is so large, there are jobs in numerous areas. While many members are active-duty soldiers, it's also possible to pursue careers in areas ranging from information technology to construction to medicine. In addition to a salary, the military also offers benefits such as postsecondary education at almost no cost to recipients.
Entry-Level Careers
WHEELED VEHICLE MECHANIC - ARMY
In this basic mechanic position, job duties include performing both scheduled and unscheduled maintenance on a variety of vehicles and associated equipment, as well as how to recover disabled vehicles. After military service, individuals could open an auto repair shop or work as a mechanic at a dealership or fleet shop.

JOB OUTLOOK (2018 TO 2028): ~0%

MINIMUM EDUCATION REQUIREMENTS:
High school diploma or equivalent. Applicants must have an Armed Services Vocational Aptitude Battery (ASVAB) score of at least 92 in Mechanical Maintenance or an 87 in Mechanical Maintenance and an 85 in General Technical.
PHARMACY SPECIALIST - AIR FORCE
Filling, dispensing and interpreting prescriptions at a base medical facility helps keep airmen and their families healthy. Educating patients is another key aspect of the job. A follow-up civilian career could be as a pharmacy technician, or, with further education paid in part by the GI Bill®, a pharmacist.

JOB OUTLOOK (2018 TO 2028): 7% TO 10%

MINIMUM EDUCATION REQUIREMENTS:
High school diploma with 15 college credits and an ASVAB score of G44 in the General category.
INFORMATION TECHNOLOGY (IT) - NAVY
Working for the Navy as an enlisted sailor in the IT field puts you on the front lines of managing information using state-of-the-art equipment. Duties can range from writing programs to handling certain types of data to operating and maintaining global satellite communication systems.

JOB OUTLOOK (2018 TO 2028): 12%

MINIMUM EDUCATION REQUIREMENTS:
High school diploma or equivalent.
BOATSWAIN'S MATE - COAST GUARD
A boatswain's mate is a master of seamanship. They handle duties ranging from small boat operations to navigation to deck maintenance. Their military experience will prepare them for future careers as pilots of ships or tugboats, marina operators, or members of emergency operations teams.

JOB OUTLOOK (2018 TO 2028): -2%

MINIMUM EDUCATION REQUIREMENTS:
A high school diploma is normally required, although an equivalent is sometimes accepted. A minimum ASVAB score of 45 is also required.
Mid to Senior-Level Careers
FIXED-WING PILOT - MARINES
Marine pilots fly some of the world's most advanced aircraft. Missions can include aerial reconnaissance, assault support, offensive support, or controlling aircraft. After undergoing Advanced Flight Training, pilots are assigned to a specific aircraft.

JOB OUTLOOK (2018 TO 2028): 7% TO 10%

MINIMUM EDUCATION REQUIREMENTS:
A Commissioned Marine Officer usually must earn a four-year degree by the time of commissioning.
SURFACE WARFARE OFFICER (SWO) - NUCLEAR AIRCRAFT CARRIERS - NAVY
SWOs with nuclear training are the backbone of the Navy fleet. They may start out overseeing propulsion systems and rise to the level of ship commander over the course of several years. In a civilian capacity, they are qualified to work as ship captains.

JOB OUTLOOK (2018 TO 2028): 4% TO 6%

MINIMUM EDUCATION REQUIREMENTS:
Must pass the ASVAB with a minimum score of 50 and possess a college four-year degree.
INFANTRY OFFICER - ARMY
An Infantry Officer can be found at ranks from second lieutenant through colonel. A second lieutenant usually commands a platoon, while a colonel commands a brigade. In between, a captain is in charge of a company, a major usually serves in a staff position, and a Lieutenant Colonel commands a battalion. Although no close civilian equivalent career exists, the skills earned in these jobs are at the executive level and could qualify individuals to move into advanced management positions.

JOB OUTLOOK (2018 TO 2028): ~0%

MINIMUM EDUCATION REQUIREMENTS:
Must have an ASVAB CO (combat) line score of at least 110. A CO line score is the sum of the scores in the tests of Arithmetic Reasoning, Coding Speed, Auto and Shop Information, and Mechanical Comprehension. A four-year college degree by the time of commissioning is also required.
Related Occupations
AIRCRAFT MECHANIC
PROJECTED GROWTH: 3%

EDUCATION AND TRAINING:
Postsecondary certificate or associate degree.
DENTAL ASSISTANT
PROJECTED GROWTH: 11%

EDUCATION AND TRAINING:
Postsecondary certificate or associate degree.
NETWORK AND COMPUTER SYSTEMS ADMINISTRATORS
PROJECTED GROWTH: 5%

EDUCATION AND TRAINING:
Usually requires a four-year computer science degree.
OPERATIONS MANAGER
PROJECTED GROWTH: 7% TO 10%

EDUCATION AND TRAINING:
Most jobs require a four-year college degree in operations or management.
SHIP PILOT
PROJECTED GROWTH: -2%

EDUCATION AND TRAINING:
Vocational training, often at the associate degree level, with one to two years of on-the-job training.
CONSTRUCTION MANAGER
PROJECTED GROWTH: 7% TO 10%

EDUCATION AND TRAINING:
A four-year degree is required in most cases, along with extensive industry skills acquired through vocational education or on-the-job training.
How Much Can You Make?
Because military salary is based in part on rank, Warrant and Commissioned Officers make more money than Enlisted personnel. Warrant Officers are generally in the technical fields, but they may also fill certain positions as Commanders. However, their pay would not change based on position. Commissioned Officers are at the command and staff levels and equate to a managerial or supervisory position - such as a CEO, CFO or COO of a business - within the civilian world.
Years of service can also affect wages. The pay scale for all three types of positions (Enlisted, Warrant Officer, and Commissioned Officer) increases every two years of service up to a certain point where it stabilizes at that grade. Further pay increases would be due to a promotion to the next grade or type of position, such as an Enlisted to Warrant Officer.
To demonstrate the impact of time served on pay grade, the chart below shows salary change on an E-7 enlisted person's monthly base salary based on years of service:
E-7 Enlisted Personnel
Incentives and Allowances
While the above information shows monthly base salaries, there are other types of allowances and compensations that can boost total pay. Following are some examples:
Housing and Meal Allowances

Service members commonly receive a housing allowance, which is calculated based on local housing rates and is meant to help offset out-of-pocket living expenses for those not living on base. Because service members also pay for their own meals, there is also a subsistence allowance to help with these expenses.

Initial and Cash Clothing Replacement Allowances

Both officers and enlisted personnel are issued an initial clothing allowance to buy uniforms. After that, enlisted personnel are authorized to receive a cash clothing replacement allowance each year (Officers do not receive this allowance). Amounts vary by military branch and gender.

The military is full of dangerous jobs and people willing to risk their lives are compensated accordingly. For example, an E-7 service member who is assigned as an Air Crew Member would receive an additional $250 per month for hazardous duty.

Family Separation Allowance

Family Separation Allowance is an additional $250 per month for service members who are assigned to an unaccompanied tour - usually to a location where families are not permitted, such as Korea or a combat zone.

The Dislocation Allowance is designed to help reimburse military families for moving expenses when assigned to a new duty station.

In most cases, military members are required to pay taxes on their basic pay; however, there is an exception for money earned while serving in a combat zone. Most incentives and allowances are not taxed.
How Do I Know If the Military Is Right for Me?
Joining one of the military branches is a major shift in life and not a decision to be taken lightly. The top-management style serves a real purpose, but it doesn't always sit well with people who have extremely independent personalities. On the positive side, the military life offers camaraderie, job security, and the chance to learn a wide range of vocations and skills—with the bill picked up by the government.
Those who do succeed in this environment share some common traits and goals that fit the military lifestyle and ideology. Survey the more than 1.3 million people on active duty throughout the Armed Forces, and certain characteristics surface again and again, such as:
Motivation to succeed
Ability to work as part of a team—both leading and being led
Desire for physical and mental challenges
Appetite for change, excitement, and travel
Desire to leverage military experience into a career (either in or out of military service)
Military Enlistment Checklist
Depending on the job, certain qualifications may need to be met before joining the military, but all five services require potential enlistees to meet the following basic requirements:
Must be a U.S. citizen or permanent resident alien
Be at least 18 years old (or 17 with parental consent)
Be a high school graduate (for enlisted personnel and Warrant Officers) or hold a four-year degree (for Commissioned Officers)
Be in good physical condition
Be in good moral standing
Pass a medical exam
In addition to the above basic requirements, each branch has its own unique enlistment specifications:
Army
17 to 34 years old

No more than 2 dependents

Pass ASVAB test with at least 31 AFQT score
Marines
17 to 35 years old

Meet moral, physical and mental standards

Pass ASVAB test with at least 32 AFQT score
Navy
17 to 34 years old

19 to 42 years old for officers

No more than 2 dependents

Pass ASVAB with at least 35 AFQT score
Air Force
17 to 39 years old

No more than 2 dependents

Pass ASVAB test with at least 36 AFQT score
Coast Guard
17 to 22 years old
No more than 2 dependents
Pass ASVAB test with at least 40 AFQT score
Willing to serve around water
Enlistment requirements vary for individuals who have prior service in one of the military branches and wish to change to a different branch but are generally similar to the above.
Selected Reserves
In addition to full-time active duty in the five military branches, it's also possible to undertake part-time or reserve service. While the enlistment and schooling requirements are generally the same as their full-time counterparts, the amount of time spent in uniform, as well as compensation through pay and benefits, are proportionately less.


National Guard (Army and Air Force)
Being in the National Guard allows you to hold down a civilian job and serve your country on a part-time basis. At the lower ranks, one weekend of service per month and two weeks for Annual Training are the minimum requirements. Farther up the ladder, more time in uniform is usually required, and compensation is adjusted accordingly.
The National Guard is a way to serve, get paid, acquire some GI Bill coverage, and get a pension after 20 years, without having to commit to full-time active duty. However, there is always the possibility of getting deployed for up to a year at a time with active duty service members. This means taking a leave of absence from your civilian employment—which employers are required to grant—and being away from home during that time.


Reserves
While only the Army and Air Force have a National Guard, all five military branches have a Reserve. With the downsizing of the active components of the military, the Reserve forces become even more important than in the past. In fact, the Reserve can account for some 20 percent of the total force in some branches.
Minimum training requirements are also one weekend a month and two weeks on Annual Training. Training may occur at an active duty post or base or aboard ship for the Navy, Marines, and Coast Guard.
Many active duty members join one of the Selected Reserve components after serving an enlistment period, either to continue being in service or to finish out their eight-year enlistment contracts or fulfill 20 years of service to qualify for a pension.


Individual Ready Reserve
Those not wanting to join the National Guard or Reserves can finish out their eight-year commitment in the Individual Ready Reserve (IRR). While the IRR does not have a drilling or Annual Training requirement, members can still be called to serve on active duty.
What Is Necessary to Succeed in the Military?
In many ways, the military functions like a large corporation. Certain people have certain skills, but jobs are designed and structured to complement each other and work together seamlessly. Cooperation, teamwork, and responsibility are the hallmarks of a military career, and as such, individuals tend to possess skills that contribute to keeping things running smoothly.
Skills
1
Perseverance
Many military missions are neither easy nor clear-cut. Service members need the ability to see a project or mission through to its intended end goal.
2
Attention to detail
In many cases, work assignments come in the form of an Operation Order that includes numerous tasks that must be completed according to specification. Each detail impacts other facets of the mission, so it's important not to miss anything.
3
Ability to work as a team player
Almost everything in the military is accomplished using the team concept. Service members must be able to both give and follow orders and often to move seamlessly from one to the other, depending on the nature of the mission.
4
Accountability
Whether responsible for a team of people or a section's equipment, being able to keep track of everyone or everything is paramount to a mission's success. Service members can be held personally accountable in cases of negligence.
5
Computer/Electronics savvy
In today's military, almost every job requires the use of some type of electronic equipment. Basic computer knowledge is necessary at virtually every level, while some specialized roles will require advanced skills.
Education Requirements
There's a reason many recent high school graduates are attracted to the idea of joining the military. With just a high school diploma or GED, they can move into a relatively well-paying, full-time job with the possibility of further education down the line. That said, military careers also appeal to those with college degrees because they can enter service at a higher pay grade.
Enlisted personnel need a high school education, and becoming a Warrant Officer requires only an additional six credits of college-level English. Joining with the intent of becoming a Commissioned Officer requires at least a four-year bachelor's degree at the time of commissioning. With the ROTC program, commissioning typically happens right after graduation. Those who choose to attend Officer Candidate School (OCS) or go through another commissioning program need to earn their degrees first.
One of the big draws of serving in the military is the education benefits, both while serving and afterward. While on active duty, many service members work toward either a first or an advanced degree using funds available through one or more of the education programs sponsored by their military branch.
Training
For enlisted personnel, the military journey begins with Basic Training. Following that, individuals receive specialized training on how to do the specific job they enlisted for. This training goes by different names according to the military branch - it's called Advanced Individual Training in the Army, "A" School by the Navy/Coast Guard, SOI (School of Infantry) by the Marines, and Tech School by the Air Force. Periodic training on specialized subjects continues throughout someone's military career, including education necessary for promotions.
Some of the military's top specialized training areas include: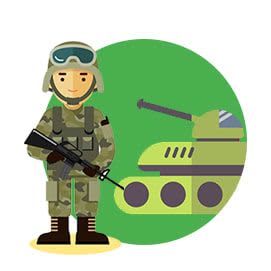 Pathfinder
Airborne
Sniper
Aviation
Survival
Pararescue
Ranger
Special Forces (Green Berets)
Reconnaissance
Delta Force
Navy SEALs
Advancement
Promotions are possible at several junctures during a military career, but often require applicants to receive additional training, such as by taking leadership courses. Advancement also corresponds heavily to experience, with many promotions requiring that individuals fulfill a certain number of years both at a specific grade and overall.
For example, enlisted personnel in the Army who wish to move from the E-4 to E-5 pay grade must first complete the Warrior Leader Course; in the Navy, a sailor wanting to go from an E-5 rating to E-6 must complete the PO2 Leadership Course as part of their career-long Leadership School Continuum.
Civilian Credentialing in the Military
Credentials in the military are civilian certifications and licenses that are related to a military occupational specialty (MOS). For example, an Army medic can get credentialed as a civilian Emergency Medical Technician (EMT). Credentialed individuals not only increase the professionalism and quality of the military as a whole but also set themselves apart from their peers and increase their chances of promotion. In addition, individuals can also use the credential in civilian life if they plan to enter a similar line of work after leaving the military.
Professional Associations & Organizations
Various military professional organizations exist to advocate for the role of the military and issues facing military families. Some of them are listed below:
GI Bill is a registered trademark of the U.S. Department of Veterans Affairs. More information about education benefits offered by VA is available at the official U.S. government Web site.
About the Author
---
---