Employment and Education Information for Helping Others Heal
Counseling Careers
Last Updated: 11/24/2022
Advertising & Editorial Disclosure
Counselors and therapists help people get through challenging, stressful, and emotional experiences. They may decide to get into the field for many different reasons - some are just naturally drawn to helping people, while others may have suffered through difficult times and are now motivated to help others get through their tough times. Demand for good counselors is high and the field offers a wealth of possibilities. If you want to help others take genuine steps towards a healthier, happier life, read on to see what a career in counseling might look like and how to achieve that goal.
Exploring Counseling Careers
Counselors work with individuals, couples, families, and groups who are struggling with a variety of problems. Issues might range from mild to severe depression, problems with alcohol or anger management, marital conflict, or career challenges. Below are some common jobs for counselors:
Entry-Level Careers
ADDICTION COUNSELOR
Also known as behavior disorder counselors or substance abuse counselors, addiction counselors work both one-on-one and in groups with people to identify what's causing their destructive behaviors and help them establish healthier habits to break the cycle of addiction. Addiction counselors can either work with people who are willingly seeking treatment or with people who are taking part in a program because of a court order.

JOB OUTLOOK (2018 TO 2028): 22%

MINIMUM EDUCATION REQUIREMENTS:
Bachelor's degree, although private practice requires a license and a master's degree.
SOCIAL WORKER
These professionals work directly with people to help them cope with everyday problems and ensure they get access to the resources they need. They may work with children, the elderly, families, people with disabilities, or people with serious addictions, to name a few.

JOB OUTLOOK (2018 TO 2028): 11%

MINIMUM EDUCATION REQUIREMENTS:
Bachelor's degree in social work
Mid to Senior-Level Careers
PSYCHOLOGIST
Unlike psychiatrists, psychologists do not prescribe medications. Instead, they use psychotherapy to help patients address problematic thoughts and behaviors and retrain their brains to adopt healthy behaviors.

JOB OUTLOOK (2018 TO 2028): 14%

MINIMUM EDUCATION REQUIREMENTS:
Master's or doctorate in clinical or counseling psychology
MENTAL HEALTH COUNSELOR
People dealing with severe mental illness may see a mental health counselor, who would diagnose them and develop a treatment plan to modify their negative behaviors.

JOB OUTLOOK (2018 TO 2028): 22%

MINIMUM EDUCATION REQUIREMENTS:
Master's degree in clinical mental health counseling or related field
MARRIAGE AND FAMILY THERAPIST
Marriage and family therapists sometimes work with individuals in their private practice, but their focus is always helping people work through issues they are having with their home life. They understand that families don't exist in a vacuum and attempt to address how various factors - such as work, personal conflict, or addiction - affect their clients' relationships, and how those relationships in turn affect their mental health. Together, they establish goals with their clients to reduce negative behaviors and replace them with healthy ones.

JOB OUTLOOK (2018 TO 2028): 22%

MINIMUM EDUCATION REQUIREMENTS:
Master's degree in marriage and family therapy or related field
PSYCHIATRIST
Like mental health counselors, psychiatrists work with people who have mental illnesses. However, in addition to counseling, their treatment plans may involve prescription medications to address the underlying cause of an illness. They're also responsible for diagnosing patients, as this is part of their medical training.

JOB OUTLOOK (2018 TO 2028): 11% OR HIGHER

MINIMUM EDUCATION REQUIREMENTS:
Doctor of medicine
SCHOOL AND CAREER COUNSELOR
The specific job responsibilities of a school counselor can depend on the school they are placed in. High school counselors, for example, work with students who are trying to find their calling, helping them get ready for college or the workforce. They also work closely with students who have behavioral issues and students who struggle academically.

JOB OUTLOOK (2018 TO 2028): 8%

MINIMUM EDUCATION REQUIREMENTS:
Master's degree in school counseling, child development, or related field
Related Occupations
HEALTHCARE SOCIAL WORKER
PROJECTED OUTLOOK (2018 TO 2028): 11%

EDUCATION AND TRAINING:
Master's degree in social work
SOCIAL AND COMMUNITY SERVICE MANAGER
PROJECTED OUTLOOK (2018 TO 2028): 13%

EDUCATION AND TRAINING:
Bachelor's degree in social work or related field
REHABILITATION COUNSELOR
PROJECTED OUTLOOK (2018 TO 2028): 10%

EDUCATION AND TRAINING:
Master's degree in rehabilitation counseling or related field
PROBATION OFFICER OR CORRECTIONAL TREATMENT SPECIALIST
PROJECTED OUTLOOK (2018 TO 2028): 3%

EDUCATION AND TRAINING:
Bachelor's degree in social work, criminal justice, or related field, plus government-sponsored training program
Data Source: Bureau of Labor Statistics, 2018 and Occupational Information Network
Counseling Salaries by Career
Due to their high levels of required education, counselors can command a higher salary; but how much higher depends on the specific position. To illustrate, the graph below highlights salary trends across many different counseling careers.
As with all jobs, experience and skill set also has a bearing on overall salary potential. The visuals below show how years of experience and specialized skills can help boost salaries for licensed professional counselors.
How Experience Affects Counselor Salaries
Experience

Salary

LATE-CAREER

+27%

EXPERIENCED

+10%

MID-CAREER

+5%

NATIONAL AVERAGE

$43,857

ENTRY-LEVEL

-9%
How Certain Skills Affect Counselor Salaries
Skills

Salary

Professional Coaching

+14%

Leadership

+14%

Program Development

+9%

Training

+6%

National average

$43,857
Would You Be a Good Counselor?
Counselors work with people, so they need to have strong people skills. But what does that mean exactly? Use the questions below as a guide to see if counseling could be a good career path for you:
Required and Preferred Skills
Formal education leading to a master's degree in counseling or psychology focuses on learning the principles and procedures for diagnosing and treating emotional, physical, and mental issues. Some skills will be honed during a degree program but others just come naturally to some people drawn to the counseling profession. For instance, superior listening skills coupled with the ability to inspire are key attributes of a successful counselor. Others include:
Skills
1
Good listener
An ability to process another person's expressed thoughts before responding is imperative for counselors. Being a good listener can also help patients feel safe and comfortable when talking about difficult emotions and experiences.
2
Exceptional interpersonal skills
Along the same lines as good listening skills, exceptional interpersonal skills are a must. This means being able to communicate in a sensitive yet effective manner, as well as being able to pick up on what others are thinking and feeling, even when words aren't used.
3
Commitment to follow through on the client's needs
This means being able to build alliances with your patients and developing and following a consistent plan of treatment.
4
Inspirational and flexible
This refers to the ability to build confidence with positive reinforcement and recognizing that treatment may need sometimes need to be modified in order to be truly effective.
Tools / Technology
1
Biofeedback equipment
Operate computer-assisted apparatus that helps patients learn to control bodily processes such as heart rate, blood pressure, muscle tension, and skin temperature
2
Basic medical spreadsheet software
Record and track patient records and progress
3
Analytical and scientific software
Utilize computer skills to manipulate research databases that can assist in diagnosing clients
Education Requirements for Aspiring Counselors
If you're interested in becoming a counselor, a degree in counseling or a related field, such as psychology, will give you the skills and knowledge you need to pass licensure requirements and start practicing. A master's degree is usually required to become a licensed, practicing counselor in all U.S. states. Some professionals will pursue doctoral studies, which expands both knowledge and opportunities for career advancement. This terminal degree will typically add at least another three years to the education timeline, but it also enables the counselor to teach at the university level, obtain managerial work in clinical studies, and serve as a consultant to governments and businesses.
For an idea of what to expect, academically, review the timeline below:
Specializations
Counselors work with a wide range of people. Patients will be of different ages, have different ethnic backgrounds, and come from different socioeconomic environments. As a result, many colleges offer a variety of specializations within their counseling degree programs, particularly that master's level. Exact specializations will vary from school to school, but below is a list of example niche areas that you can pursue within the field:
School counseling
Marriage, family, and child counseling
Rehabilitation counseling
Clinical counseling
Community mental health
Career counseling
College student services
Requirements to Practice as a Counselor
State licensing requirements typically stipulate that counselors must have at least a master's degree in the field to be eligible to practice unsupervised in a clinical setting. Most states also require graduate students to complete up to 4,000 hours of work in a clinical setting. This is known as a practicum. Counselors must also pass a state government-approved exam. Some states also require annual recertification through continuing education.
National certification is available through two boards, depending on the area of practice: National Board of Certified Counselors (NBCC) and Commission on Rehabilitation Counselor Certification (CRCC), which is dedicated to serving people with disabilities.
The NBCC certifies counselors who meet training, experience, and performance standards on the board's exam. The CRCC is a nonprofit organization that sets standards for rehabilitation counseling services. Certification by the CRCC is recognized internationally.
Work Environments
Counseling jobs are available across a range of industries and healthcare settings. Counselors can set up a private practice or work in local family services agencies, outpatient or inpatient mental health and substance abuse centers, public and private hospitals, state and federal government agencies, and public or private schools. In addition, counselors can pursue a career in social work or mental healthcare through state employment. These work environments are discussed in more detail below:
Where to Find Counseling Jobs
Many professional counseling associations maintain job boards and employment resources that can be viewed even by nonmembers. Here are some job hunting resources to get the search started.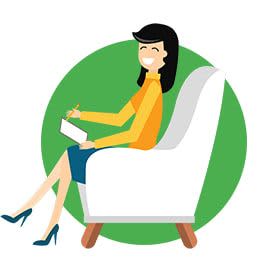 Counseling Internships
Internships may be available to counselors-in-training who are in the midst of pursuing a graduate degree in the field. These opportunities are generally open to students pursuing a specific type of counseling specialty, such as family therapy. Work experience through a counseling internship may qualify toward the practicum, which is the total number of clinical hours required to be licensed, depending on the state. Volunteering at a rehabilitation center or similar public facility is also a way to gain experience before pursuing an internship. Check local state requirements to determine if volunteer work can be applied toward the hours required for licensure.
Although college departments have local internship programs and students should take advantage of them, below are a few examples of what's available around the country.
Location: Oakland, CA

Prelicensed marriage and family therapists can apply to be trained at Grateful Heart, which utilizes a holistic approach to psychotherapy. Interns receive a regular caseload, which they will be expected to spend 10 hours a week managing, in addition to attending regular trainings and meetings.
Location: San Jose or San Francisco, CA

Kaiser runs internships for marriage and family therapists who have already earned a master's degree. By the end of the yearlong program, most interns will have worked with more than 100 outpatients in classroom and group settings.
Location: New York, NY

Undergraduate psychology majors can spend a summer in New York, where they'll shadow practicing psychologists to learn how they approach research, public education efforts, and clinical duties.
Location: Atlanta, GA

Prospective social workers and clinical counselors pursuing graduate studies can benefit from an internship at a residential facility. Interns learn how to apply multiple therapies for people with mental illnesses by working with them under professional supervision.
Location: Rockville, MD

Public health and behavioral science students and recent graduates can apply to be SAMHSA interns, where they will work on projects or do research designed to prevent and treat behavioral disorders. The programs last 15 weeks and require intensive 40-hour workweeks.
Professional Associations to Consider
Membership in professional counseling associations gives counselors broader opportunities to meet colleagues in the field, share insights and network with other professionals. The American Counseling Association is the largest general group, but many organizations exist to serve counselors pursuing a specialized area of practice.
About the Author
---
---