Information on Jobs, Salary, and Education to Help You Choose the Right Path
Business Careers
Last Updated: 11/24/2022
Advertising & Editorial Disclosure
No matter where your passion lies—health, sports, art, technology, or anywhere else—there's a career in business to match it. The demand for business skills cuts across all industries, making this field attractive to many. Whether you're good with numbers or good with people, there are plenty of ways to leverage your talents. Learn more about career opportunities, educational paths, and salary trends for business professionals.
Exploring Careers in Business
Entry-Level Careers
BUYERS AND PURCHASING AGENTS
Buyers are responsible for purchasing the products and services an organization needs in the course of its business. People in these positions evaluate suppliers, negotiate prices, and monitor the quality of goods and services.

JOB OUTLOOK (2018 TO 2028): -6% Although this area is generally in decline (mostly due to certain tasks being newly automated), some sectors—such as wholesale and retail purchasing—have a better outlook. Individuals may also apply their skills to jobs in business operations.

MINIMUM EDUCATION REQUIREMENTS:
Most employers require entry-level buyers to have a bachelor's degree, as well as on-the-job training.
HUMAN RESOURCE SPECIALIST
Job duties include recruiting and interviewing potential employees, addressing issues of employee relations, providing orientation and training to new employees, and working on issues involving compensation and benefits.

JOB OUTLOOK (2018 TO 2028): 5%

MINIMUM EDUCATION REQUIREMENTS:
A bachelor's degree is usually required, with a preference for coursework in business, industrial relations, human resource management, and related studies.
MEETING, CONVENTION, AND EVENT PLANNERS
These professionals coordinate all the details involved with holding professional events, such as selecting locations, arranging transportation, and negotiating appropriate contracts. Travel is an essential part of the job, and long hours during events are the norm.

JOB OUTLOOK (2018 TO 2028): 7%

MINIMUM EDUCATION REQUIREMENTS:
Bachelor's degree, with experience in the hospitality industry desired.
MARKET RESEARCH ANALYST
Market research analysts gather data on consumers, market conditions and competitors, gauge demand for specific products or services, and help determine pricing models.

JOB OUTLOOK (2018 TO 2028): 20%

MINIMUM EDUCATION REQUIREMENTS:
Employers generally require a bachelor's degree and seek candidates with strong math and analytical skills.
PERSONAL FINANCIAL ADVISOR
Personal financial advisors work with individuals to determine their financial needs, guide them on investment decisions, and help with long-term planning goals such as meeting educational expenses or retirement.

JOB OUTLOOK (2018 TO 2028): 7%

MINIMUM EDUCATION REQUIREMENTS:
A bachelor's degree, usually with coursework in economics, accounting, business, as well as financial planning.
Mid to Senior-Level Careers
ECONOMIST
Economists work within a variety of fields to analyze data, research trends, and make forecasts relating to specific industries or the economy as a whole. The increasing complexity of the global economy, expanding regulations, and an ever more competitive business environment are helping shape the roles of economists.

JOB OUTLOOK (2018 TO 2028): 8%

MINIMUM EDUCATION REQUIREMENTS:
Economists generally need either a master's degree or a PhD. In some instances, specific work experience may also be required.
MEDICAL AND HEALTH SERVICES MANAGERS
Medical and health services managers work at the administrative and executive levels to oversee operations at medical facilities and departments, or for individual practices. They work to bridge the clinical, financial, and operational sides of healthcare.

JOB OUTLOOK (2018 TO 2028): 18%

MINIMUM EDUCATION REQUIREMENTS:
Employers often prefer master's degrees in health administration, health management, nursing, public health administration, or business administration.
MANAGEMENT ANALYSTS
Looking at the big picture, these consultants work with businesses to find ways to cut costs and boost productivity—without sacrificing quality. Duties may include interviewing employees, reviewing financial data, devising alternative approaches and implementing solutions, and monitoring their progress and success rate. Analysts typically work individually, on a contract basis, but may be employed by a consulting firm.

JOB OUTLOOK (2018 TO 2028): 14%

MINIMUM EDUCATION REQUIREMENTS:
Bachelor's degree, with designation as a Certified Management Consultant (CMC) a plus.
Related Occupations
ACCOUNTANTS AND AUDITORS
PROJECTED GROWTH(2018 to 2028): 6%

MINIMUM EDUCATION REQUIREMENTS:
Most employers require a bachelor's degree in accounting or a related field. Some prefer applicants to hold a master's degree.
LOAN OFFICERS
PROJECTED GROWTH(2018 to 2028): 8%

MINIMUM EDUCATION REQUIREMENTS:
Employers seek candidates with a bachelor's degree, usually in a field such as business or finance.
TRAINING AND DEVELOPMENT SPECIALISTS
PROJECTED GROWTH(2018 to 2028): 9%

MINIMUM EDUCATION REQUIREMENTS:
Bachelor's degree in areas such as training and development, human resources, education, or business administration.
Data Source: Bureau of Labor Statistics, 2018
What You'll Earn in Business
Generally speaking, jobs in business pay better than those in other occupations. Of course, individual pay depends on several factors, including your breadth of experience, skill level, degree of responsibility, and the specific industry you work in. As an example, the graph below highlights salary trends for a range of different business careers:
The Nature of Business: Deciding if it's the Right Career
Few career fields are as wide in scope as business, which spans multiple industries and, therefore, encompasses even more job options. People may lean toward the financial side of operations or toward its human aspects. Students interested in entering the field should start by evaluating their own strengths and interests—not only to determine what they are but also to determine where they will best fit within this vast field. Here are some steps to take:
Do some soul-searching
Ask yourself about the things you value, such as how much money you want to make, where you want to live, or what you want to work on. From there, you can choose an appropriate job or field within business, or decide if another industry entirely would suit you better. Once you understand what excites you and what you care about, you can start narrowing down options to a job that fits.

Figure out what you do best
Going hand-in-hand with what you want is what you do well—or want to learn. Few things are as satisfying as being able to effectively use and develop your skills.

Ask around
Talking to people in the field is one of the easiest, yet most effective ways to find out what a career in business is really like. No one knows better what it's like to work in the business world than someone who's doing it, so don't be afraid to pick up a phone and ask someone for an informational interview. You can get candid answers to your questions, as well as additional information you may not have considered.

Get your foot in the door
If you are just starting out in your career or still in school, an internship can be a great way to find out if working in a certain industry or job is right for you. Many business internships can also serve as a stepping-stone to a full-time position.
Skills Needed in Business
Skills
1
Analytical skills
The need to organize and derive meaning out of data is of growing importance as increasing amounts of data on everything from demographics to buying trends are being used to drive business decisions.
2
Written communication skills
The ability to communicate clearly in writing—and increasingly, to translate technical and specialized information into accessible forms—is vital, especially in positions that have a strong financial component.
3
Negotiating skills
Strong negotiators are masters at achieving the "win-win" situation—pleasing both sides in potentially contentious circumstances. This requires finesse with both analytical skills and interpersonal skills, and is particularly critical for buyers, salespeople, human resource professionals, and those in managerial positions.
4
Interpersonal skills
The ability to not only communicate, but to listen, understand, and work cooperatively is critical in the business environment. Dealing with people may seem straightforward on the surface, but business professionals must be prepared to interact with people who have a wide range of personalities, cultural backgrounds, and priorities.
5
Attention to detail
Even small errors can have big consequences in the business world. Making sure the decimal point is in the right place will ease the accountant's mind, and following up on email keeps clients happy.
Tools / Technology
1
SQL
Knowledge of this programming language, used to extract information from a relational database, is a basic skill for some jobs, such as business analysts.
2
Salesforce
The software from this cloud computing company is a standard for customer relationship management, and has become an essential tool for businesses that need to track and serve customers.
3
Excel
Most people don't need to move beyond the basic operations of Microsoft's ubiquitous spreadsheet program, but the ability to tap into its advanced functions is essential to more numbers-driven roles such as economists, financial analysts, and people in similar positions.
4
Hadoop
As we enter the era of big data, organizations are putting a premium on people who can manage and analyze large, unstructured data sets using tools like Hadoop. This is particularly important for market research analysts, economists, and those in related fields.
Business Degree Options
A degree in business, business administration, or business management is the to-go academic option for gaining the skills and knowledge needed to start a successful business career. Degree paths include:
A degree in business isn't your only option, however. People in business—particularly the tech world—are increasingly seeing the value of liberal arts degrees, because they find graduates of these programs can write clearly, think critically, and come up with creative solutions to any number of problems. That said, there are plenty of employers who still seek business people with degrees in a variety of disciplines. Here are some other popular degree programs that can lead to a business career:
Communications
Promoting a company's products and services is the job of a sales or marketing professionals. In addition to general business coursework, students who pursue a communications degree often learn about consumer behavior, how to develop marketing strategies, marketing in global environments, and using various forms of media to target potential customers.

Economics
Economics majors study macro- and microeconomics, statistics, math, and economic theory. Unlike a business administration degree, economics is a more specific discipline that stresses analytical skills and offers a strong basis for graduate studies.

Human Resources
With a foundation in general business principles, human resources degrees also put special emphasis on handling issues related to managing a company's employees. Students explore topics such as recruiting and retaining staff, training methods, employment law and labor relations, and financial issues such as compensation and benefits.

Mathematics
Math students study such things as algebra, calculus, and statistics. They learn to think analytically and abstractly and then to apply principles to real-world problems. Math majors go on to careers as statisticians, actuaries, and researchers.

Psychology
Students in psychology study such things as interpersonal relationships, industrial or organizational psychology, and cognitive behavior. This can be a useful degree for someone entering fields such as marketing, sales, training, and human resources, where interpersonal skills and understanding human behavior are vital.
Certificates
People looking for a quicker path into the business world—or who want to acquire a specific skill set—may want to look into certificate programs. These provide concentrated coursework in a relatively narrow area and can be completed in a fraction of the time of a full degree. Certificate options are available through community colleges, university extension programs, and online colleges.
Accounting/Bookkeeping Certificate
These programs prepare students for bookkeeping careers in a general business environment. Coursework includes instruction on general and payroll accounting, how to record and analyze transactions, and how to use common accounting software.

Business Administration Certificate
This certificate program is designed to develop quantitative skills and teach business basics. It includes business management, project management, information systems, accounting, finance, and strategic business decision making.

Human Resource Management Certificate
These programs provide the foundation of knowledge and skills needed to work in HR. Coursework includes employee relations, recruitment, employment law, human resources systems and technology, organization development, and other related topics.

Marketing Certificate
A certificate in marketing provides students with tools to develop and implement marketing plans. It includes instruction on the essentials of marketing strategy, the use of strategy and decision making tools, and courses on creating and communicating brand value. Many of these programs today have added coursework on social and new media.

Project Management Certificate
Many of these programs are designed to help candidates prepare for Project Management Professional Certification, a widely recognized certification in the field. These programs teach participants the principles and theories of project management, and how to apply them.
Specializations
MBA programs have long offered general degrees, but MBA students also have the choice of a wide variety of specializations. Choosing one will depend on your interests, but it can also affect your earnings. For example, PayScale's last report in 2017 ranked 38 MBA concentrations and found a wide disparity in earnings power. At the top were MBAs with a concentration in strategy, who earned a median salary of around $95,000 during the first five years of their careers. In comparison, MBAs with a human resources concentration earned roughly half that—a median of closer to $48,500 during their early careers. Below is a sampling of different specializations for MBAs to give you an idea of what's available.
Corporate finance
People who specialize in this area train in broad financial issues, such as raising capital, choosing and organizing the capital structure for a company, and corporate governance. People who specialize in this area often enter careers in investment banking, mergers and acquisitions, and public finance, among other areas.

Digital marketing
The rise of the Internet and the digitization of media is creating new opportunities for people with expertise in digital marketing. This specialization provides students with a foundation in marketing basics, as well as specialized courses on the use of social media for brand management, design, and development of Web and mobile applications, and new media marketing.

Entrepreneurship and innovation
For students pursuing careers as entrepreneurs, this specialization provides an understanding of financing mechanisms such as venture capital and private equity, startup business practices, and techniques for managing and growing a company.

Global business
Students interested in a career with multinational companies might consider a specialization in global business. Studies in this area include coursework in global strategy, emerging financial markets, and global banking and capital markets.

Social innovation and impact
For students who want to do well while doing good, specializing in social innovation and impact allows them to combine an interest in business with positive social impact. Coursework includes such things as social venture capital, corporate social responsibility, and social entrepreneurship. People with this specialization pursue careers in economic development, social entrepreneurship, and socially responsible investing.
Other Requirements for Employment
Certain jobs in the field of business will require licenses or certifications. While some are required by law, others are voluntary but in-demand by employers and employees seeking to demonstrate a specific expertise. A sample of credentials for business professionals is listed below:
Where You'll Work
Business jobs are found all over the world, although if you're interested in working in a niche industry, you may find greater opportunities in areas such as New York (for finance) or Silicon Valley (for technology and entrepreneurship). Another factor to consider is whether you want to work at a large firm, a smaller, local company, or a startup. Large companies usually have more resources and the potential for advancement within them. Small companies may have fewer resources and opportunities for advancement but offer the chance to take on greater responsibility and do a greater variety of things. Startups have a different energy than typical businesses - they can be demanding and unstable, but they offer the opportunity to be a part of building something, and can sometimes pay off big.
Finding a Job in Business
The Internet has become the go-to place for job searchers. While there are plenty of general job search sites, there's also a host of places for listings in specific industries or fields. Many websites also offer additional information and tips for job seekers, as well as places to post your resume. Below are some sites that list business jobs in a variety of industries: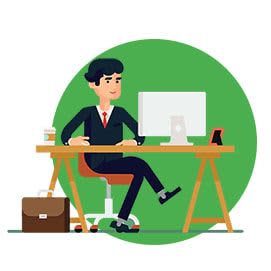 Internships: Getting a Taste for Business
Internships give students and recent graduates a chance to gain work experience, get insight into an industry, and begin building a network of contacts within a field. Several specialized websites, such as internships.com and internmatch.com, list opportunities, and many individual companies post information about available slots as well. Students can further take advantage of their schools' job placement offices and alumni networks to search for opportunities.
Location: New York, N.Y.

Through their work in finding and developing growth opportunities, interns for the company's business development and strategy division gain insight into the business aspects of television.
Boston, Mass.

Students are mentored by a BCG consultant during their work on a specific aspect of a client project. Typically lasting several months, internship opportunities are open to undergraduate and graduate students, and may lead to full-time jobs at the firm.
San Jose, Calif.

Interns work on several technological projects for the online auction company, including designing apps and other platforms. Participants must be undergoing master's-level study in mathematics, statistics or computer science, and have at least two years of experience with SQL or SAS.
San Francisco Bay, Calif.

Aimed at college juniors studying accounting or finance, this internship lets candidates work on projects in one of several of the company's accounting fields.
Professional Associations & Organizations
Professional organizations—many of which are open to students—help you stay current on developments in your field, provide educational resources to sharpen your skills, network with other people in your field, and find new opportunities as you grow in your career. Below is a list of some of the specialized associations that support people in various business careers.