Job Options, Earnings, and Education for Budding Biologists
Careers in Biology
Last Updated: 4/29/2022
Advertising & Editorial Disclosure
From studying different species of plants and animals to conducting medical research, biology careers offer a world of options for anyone interested in the science of life. Contributions by those in the field have increased our understanding of the world of organisms around us and have been the catalyst for great strides in medicine, health, and technology. If you're considering this field, read on to explore different biology career paths, review job prospects and salaries, and get details on required education.
Exciting Careers in the Biology Field
Biologists can pursue numerous career paths depending on their key areas of interest. Positions can be found in natural science, healthcare, conservation, or education. Some biologists train specifically for work with government organizations or research organizations, while others may pursue more creative careers as science journalists or even photographers. Those seeking more advanced roles in biotechnology, forensic science, public policy, or research should be prepared to complete graduate studies.
For a better idea of what's available, take a look at the different jobs discussed below:
Entry-Level Careers
CONSERVATION SCIENTIST AND FORESTER
Conservation scientists are responsible for overseeing the environmental and ecological quality of green areas, including forests, parks, and other natural resources.

JOB OUTLOOK (2018 TO 2028): 3%

MINIMUM EDUCATION REQUIREMENTS:
Bachelor's degree in forestry, biology, or a related field
BIOLOGICAL TECHNICIAN
Biological technicians assist scientists with tests and experiments. They may be tasked with analyzing data from research studies or experiments, writing reports, and making sure all tools and equipment used in the lab are clean and orderly. Technicians may be trained in a particular specialty area, such as microbiology, ecology, or molecular biology.

JOB OUTLOOK (2018 TO 2028): 7%

MINIMUM EDUCATION REQUIREMENTS:
Bachelor's degree in biology or a related field
WILDLIFE BIOLOGIST
This type of biologist studies wildlife, habitats, behavior, and animals' roles within their ecosystem. They also explore the impact humans have on wildlife and their natural habitats. Though most commonly found in a lab, outdoors, or in an office setting, some wildlife biologists work in medical labs conducting experiments.

JOB OUTLOOK (2018 TO 2028): 5%

MINIMUM EDUCATION REQUIREMENTS:
Bachelor's degree in biology or a related field
Mid to Senior-Level Careers
BIOCHEMIST OR BIOPHYSICIST
Biochemists and biophysicists conduct experiments to analyze the chemical and physical structures of living things. They may also study disease, cell development, and other biological processes. Major contributions to the field include treating diseases and disorders related to the brain, furthering the field of forensic science, fighting diseases such as Alzheimer's and cancer, and discovering DNA.

JOB OUTLOOK (2018 TO 2028): 6%

MINIMUM EDUCATION REQUIREMENTS:
PhD to work on independent research and development projects
MEDICAL SCIENTIST
Medical scientists undertake research projects with a goal of improving overall human health. As a result, they may study the cause of a disease or chronic health problem, develop a drug for treatment or prevention, and conduct clinical trials for more information or to test treatment options.

JOB OUTLOOK (2018 TO 2028): 8%

MINIMUM EDUCATION REQUIREMENTS:
PhD in biology or related life science
MICROBIOLOGIST
By studying microorganisms - such as bacteria, viruses, and parasites - microbiologists try to understand how different organisms live and grow. These research findings are either used to expand current knowledge or can be used to develop new products or solutions for a range of real world problems.

JOB OUTLOOK (2018 TO 2028): 5%

MINIMUM EDUCATION REQUIREMENTS:
PhD in microbiology to conduct research or work as a university researcher
Related Occupations
MEDICAL LABORATORY SCIENTIST
PROJECTED GROWTH (2018 TO 2028): 8%

EDUCATION AND TRAINING:
Bachelor's degree
GEOSCIENTISTS
PROJECTED GROWTH (2018 TO 2028): 6%

EDUCATION AND TRAINING:
Bachelor's degree
ENVIRONMENTAL SCIENCE AND PROTECTION TECHNICIAN
PROJECTED GROWTH (2018 TO 2028): 9%

EDUCATION AND TRAINING:
Associate degree
EPIDEMIOLOGIST
PROJECTED GROWTH (2018 TO 2028): 5%

EDUCATION AND TRAINING:
Master's degree
AGRICULTURAL AND FOOD SCIENTISTS
PROJECTED GROWTH (2018 TO 2028): 7%

EDUCATION AND TRAINING:
Bachelor's degree
Data Source: Bureau of Labor Statistics, 2019
Annual Earnings for Biologists
Biologists with advanced degrees in specialty fields such as biotechnology and molecular biology can expect to command above-average salaries and enjoy more job opportunities as the biotech field grows. McKinsey & Company notes that the biopharmaceutical industry, in particular, is growing quickly, as new companies emerge to develop drugs for an aging population. Take a closer look at salaries for different biology careers:
Salaries for biology positions vary significantly based on experience, area of specialization, and skill. To illustrate, the visuals below show how biology salaries change over the years as well as how skillset can impact salary potential.
Experience

Salary

LATE-CAREER

+50%

EXPERIENCED

+29%

MID-CAREER

+2%

NATIONAL AVERAGE

$52,855

ENTRY-LEVEL

-21%
How Certain Skills Affect Biology Salaries
Skills

Salary

Molecular biology

+21%

Project management

+11%

Technical writing

+7%

Technical analysis

+7%

Research analysis

+5%

Environmental consulting

+3%
Should You Become a Biologist?
Are you analytical about nature? Do you enjoy solving problems? Are you passionate about the natural world? If you answered 'yes' to these questions, a career in biology could be a suitable professional path. Consider the following questions to determine whether a career in biology is right for you:
Required and Preferred Skills
Skills
1
Research
Biologists conduct in-depth research using a variety of methods and protocols, including collecting samples of substances, plants, and animals.
2
Analysis
Biologists must have strong analytical skills and be able to not only interpret research findings and data but also communicate these findings to others. In some cases, biologists will also need to translate their analyses into actionable strategies.
3
Observation
Proper analysis often requires keen observation. Biologists must be keen observers when they monitor experiments and test subjects to ensure they are collecting accurate information.
4
Project management
Large research requires project management skills. For instance, you'll need to be able to breakdown a large scale goal into smaller actionable items and create a step-by-step plan or process to achieve what you're looking for. This also includes managing different resources such as lab equipment, funding, and, sometimes, a team of other biologists/researchers.
Tools / Technology
1
Microscopes
A staple in many laboratories, microscopes allow biologists to see tiny objects and organisms for research. Compound light microscopes are typically used to view bacteria cells, while scanning electron microscopes can be used to view protein molecules.
2
Computers and probeware
Computers and analytic/scientific software are used for a range of purposes, including storing data, generating reports, and displaying charts and information. Probeware can be connected to a computer to instantly analyze measurements such as temperature and pH.
3
Robotic lab equipment
Automatic pipettes, liquid-handling robots, and other robotic lab equipment are examples of automated equipment used to perform experiments, handle fragile or dangerous substances, and perform other tasks without human help.
Education Requirements
Almost all biologist positions require at least a bachelor's degree in biology or a related science, but an associate degree may be enough for some entry-level lab technician roles. If you want to pursue a career beyond the technician or technologist role - and especially if you're interested in medicine, research, or academia - you'll need to complete a graduate degree.
The timeline below is a basic overview of degree programs that can help you prepare for a career in the field of biology:
Specializations
Because the field of biology is quite broad, most individuals completing an undergraduate or master's degree program choose to concentrate their knowledge in a certain area. Many schools offer the option to specialize at the master's degree level. Here are some common specializations within biology:
Health and disease or pre-med
Students enrolled in a master's degree program with a health and disease or pre-med specialization learn principles of pharmacology, neuroscience, bioethics, and disease to move into the healthcare field.

Molecular biology
Those interested in microorganisms and biomedical research can specialize in molecular biology to study topics such as industrial microbiology, bioenergetics, gene therapy, and enzymology.

Ecology
This branch of science focuses on how organisms interact with one another as well as their surroundings to come up with ways to improve our environment, safeguard the public against diseases, help save endangered species, or come up with feasible solutions for agricultural problems.

Forensic biology
Forensic biology combines biology and criminal justice or law enforcement. In this specialty, biologists use their knowledge of the entire human body, organisms, and the environment to help identify victims and/or support criminal investigations.
Biology Certifications and other Credentials
No formal certification is required to land a job in biology, but like many other professions and industries, earning voluntary certification can help boost your resume when applying for jobs. Certifications are available from a variety of professional organizations. Examples include:
Where Biological Scientists and Researchers Work
Biological scientists and researchers work in a variety of settings. Take a look at some of the common workplaces:
Biology Career Boards
You can find biology jobs and career opportunities posted on internal college and university boards, government job sites, and on major job boards such as Indeed. You can also narrow down your search by using specialized science career websites such as these examples: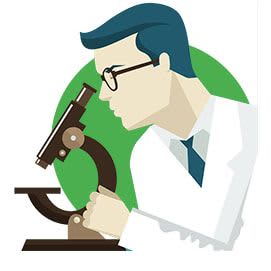 Internships
Completing an internship can provide valuable hands-on experience and the opportunity to work with experienced biologists, zoologists, botanists, and researchers already in the field. Internships also provide the chance to get to know a company and see if it would be a good professional fit after graduation.
As you complete your bachelor's degree in biological science, check with your academic advisor about internship opportunities available on campus. If you are pursuing a research degree, you may be able to secure an assistant position at your school or an internship from the biology department. You can also apply for internships at local manufacturing companies, nonprofit organizations, medical centers, and conservation societies, depending on your area of specialization.
The requirements to secure a biology internship typically include strong letters of recommendation, a professional resume outlining career goals and skills, and an in-person interview. Take the time to review internship application requirements and expectations on a company's website to find the internship that is right for you. Examples of biology internship opportunities are provided below:
Location: Cambridge, MA

MIT combines the resources of the Department of Biology, the Department of Brain & Cognitive Sciences, and the Center for Brains, Minds, and Machines to run a 10-week program for sophomore and junior science majors from other universities who want to see what a career in research entails.
Location: Cambridge, MA

Undergraduates at U.S. universities can attend Harvard University's summer internship program at the FAS Center for Systems Biology. The 10-week program gives interns a chance to work on research projects in faculty labs and learn cutting-edge techniques.
Location: Seattle, WA

The Institute for Systems Biology has several options available to students interested in an innovative approach to exploring biological complexity. High school students and undergraduates can take advantage of summer internships or year-long mentorships under ISB faculty. Graduate students can also apply for the latter.
Location: St. Louis, MO

Monsanto is a leader in the agricultural biotechnology and agrochemical industry. It offers a variety of paid internships for both undergraduate and graduate students, all of which allow interns to learn about Monsanto's company culture, take tours of labs and production facilities, and complete online courses at Monsanto University.
Location: Sunnyvale, CA

The RSI biotechnology internship is a six-month intensive program that immerses participants in biotech research. Interns follow a curriculum, work with mentors and scientists in a supervised setting, and complete a final project.
Associations & Organizations for Biologists
Attending professional networking events and career fairs designed for biology students can help you forge connections with professionals in the field and present yourself as a potential intern or candidate for employment as you near graduation.
Academic biology departments are a valuable resource for networking and keeping up with the industry, while some - such as MIT - have programs where students from other schools visit for conferences, workshops, and competitions. Another great option is joining a professional association in your area of specialization. Organizations and associations for biologists include:
About the Author
---
---