Job, Education, and Salary Information for Creative Professionals
Art Careers
Last Updated: 11/24/2022
Advertising & Editorial Disclosure
There are more job opportunities for creative professionals than ever before and being able to earn a living doing something you're passionate about is priceless. However, embarking on an art career can feel a bit daunting with so many traditional and nontraditional options at your disposal. The guide explores the various types of art jobs available, education requirements needed to enter those professions, and provides information on potential salaries. Find out how - and where - you can put your art skills to good use, whether its in the art world or an entirely different industry.
Jobs in the Art Industry
Advances in technology and business have greatly expanded the kinds of career opportunities available to people with art degrees. According to the Bureau of Labor Statistics, employment opportunities for art and design workers will increase as games, movies, television, and mobile applications require animation and visual effects. On top of that, websites are now a necessity, making the demand for visual designers even greater.
Traditional Fine Art careers have also evolved. Art museums have adopted virtual practices, and many graduate and undergraduate programs offer courses that teach creative applications for digital technologies.
So, whether your gift is teaching art to kindergartners or designing graphics for iPhone apps, there is a place for you in today's job market. The key is finding the art career that is right for you and your skillset. Examples of creative job opportunities are featured below:
Entry-Level Careers
ART DIRECTOR
From magazines to product packaging to video games, an art director ensures that all of the moving pieces in the visual design process come together. This requires overseeing the work of anyone associated with the design process, including graphic designers, copywriters, photographers, and illustrators.
Career opportunities for art directors are available in a variety of creative fields, such as advertising, animation, marketing, fashion, film, publishing, theater, television, and video production.

JOB OUTLOOK (2018 TO 2028): ~0%

MINIMUM EDUCATION REQUIREMENTS:
A bachelor's degree in a subject related to art or design; however, most new graduates will not assume a Director level title immediately out of college. Most will need to gain a few years of experience as a designer before achieving the Art Director title.
GRAPHIC DESIGNER
There are various job scenarios for graphic designers. Many are employed or contracted by businesses to create original designs for promotional and commercial use. Example projects include company logos, marketing and advertising materials, and website layouts. Designers are also brought in to develop visuals for innovative media like video games and animated film.

JOB OUTLOOK (2018 TO 2028): 3%

MINIMUM EDUCATION REQUIREMENTS:
A bachelor's degree in graphic design or a related field; designers should build and maintain a professional portfolio showcasing their best works.
INTERIOR DESIGNER
Interior Designers make residential, commercial, and industrial spaces functional and fashionable. Essential to their creative expertise is making design choices (color, lighting, furnishings) that complement the structural requirements of a room.
Interior Designers can seek employment with architectural, engineering, or interior design firms, while others may choose to work independently. In fact, the Bureau of Labor Statistics reports that in 2018, about one out of four were self-employed.

JOB OUTLOOK (2018 TO 2028): 4%

MINIMUM EDUCATION REQUIREMENTS:
A bachelor's degree with a concentration on interior design. Interior designers should have a professional portfolio of their projects to demonstrate experience and originality.
MULTIMEDIA ARTISTS AND ANIMATOR
Visual effects in media entertainment have never looked more sophisticated. Aspiring multimedia artists and animators can play an important role in the innovative, and sometimes interactive, storytelling we see in television, films, video games, commercials, and cartoons.
This career path is ideal for designers interested in rendering two- and three-dimensional images and learning the latest digital and animation technologies. Those who are interested can seek employment opportunities with gaming and film production companies.

JOB OUTLOOK (2018 TO 2028): 4%

MINIMUM EDUCATION REQUIREMENTS:
A bachelor's degree in fine art, computer graphics, animation, or a related field.
PHOTOGRAPHER
Photographers can build successful careers through various commercial opportunities. Portraits that document milestones, such as wedding engagements and newborn arrivals, are gaining popularity among couples and families. Also, businesses and tech companies hire professional photographers to take corporate headshots as well as original images for websites and other promotion-related materials.
Careers in photography span other fields as well including science, sports, and journalism. Some artists complete entire collections of original images to be sold on stock photography websites.

JOB OUTLOOK (2018 TO 2028): -6%

MINIMUM EDUCATION REQUIREMENTS:
A bachelor's degree is required for photojournalists, industrial, and scientific photographers. Postsecondary education is not typically required for portrait photographers, although related classes are recommended.
Mid to Senior-Level Careers
ART, DRAMA, AND MUSIC TEACHERS (POSTSECONDARY)
A career in teaching can be rewarding for those who consider art to be a viable learning vehicle. According to a 2013 study from the National Art Education Association, art education has a profound influence on youth behavioral, cognitive, and social development. Whether through painting, sculpture, or theatre, you can help students grow, explore, and problem solve through creative engagement.

JOB OUTLOOK (2018 TO 2028): 7% TO 10%

MINIMUM EDUCATION REQUIREMENTS:
A master's degree in a related art field is required for postsecondary teaching roles.
ART THERAPIST
Imagine applying your creative faculties toward improving a person's well being. Art therapy uses visual art practices (painting, drawing, sculpture) as a form of counseling to help patients address an array of health conditions. According the American Art Therapy Association, it is an effective treatment for people experiencing developmental, medical, educational, and social or psychological impairment.
Art therapists can find employment opportunities in many settings including hospitals, wellness centers, psychiatric and rehabilitation facilities, schools, crisis centers, senior communities, private practice, and similar clinical and community settings.

JOB OUTLOOK (2018 TO 2028): 7% TO 10%

MINIMUM EDUCATION REQUIREMENTS:
Master's or post master's degree in art therapy. Some states require a license to practice, which requires passing the Art Therapy Credentials Board (ATCB) exam.
ARCHIVISTS, CURATORS, AND MUSEUM TECHNICIANS
A significant amount of work goes into to the presentation and preservation of art and artifacts. Archivists appraise and catalog permanent records and historical documents. Curators are responsible for organizing exhibitions for permanent and traveling collections. Museum technicians help to preserve and restore the objects and documents belonging to the collections. These opportunities are ideal for people who enjoy research and are interested in working behind of the scenes in the museum and gallery space.

JOB OUTLOOK (2018 TO 2028): 9%

MINIMUM EDUCATION REQUIREMENTS:
A master's degree related to the position's field is usually required for archivist, curator, and conservator positions. Museum technicians must earn a bachelor's degree. Intern and volunteer experience in archives and museums is encouraged.
Related Occupations
AGENTS AND BUSINESS MANAGERS OF ARTISTS, PERFORMERS, AND ATHLETES
MEDIAN ANNUAL SALARY: $66,040

JOB OUTLOOK (2018 TO 2028): 7% TO 10%

EDUCATION AND TRAINING:
Bachelor's degree or some college education is typically required.
COMMERCIAL AND INDUSTRIAL DESIGNERS
MEDIAN ANNUAL SALARY: $66,590

JOB OUTLOOK (2018 TO 2028): 3%

EDUCATION AND TRAINING:
Most entry-level positions require a bachelor's degree; a portfolio with examples of design projects is encouraged.
FASHION DESIGNERS
MEDIAN ANNUAL SALARY: $63,670

EDUCATION AND TRAINING:
Bachelor's degree in a related field, such as fashion design or fashion merchandising.
MUSIC THERAPISTS
MEDIAN ANNUAL SALARY: $47,860

JOB OUTLOOK (2018 TO 2028): 7% TO 10%

EDUCATION AND TRAINING:
The American Music Therapy Association states that a bachelor's degree or higher in music therapy is required from one of over 70 American Music Therapy Association (AMTA) approved college and university programs, and students are required to complete 1200 hours of clinical training. Graduates pursuing professional practice must complete the national board certification exam to obtain the credential MT-BC (Music Therapist - Board Certified).
PRODUCERS AND DIRECTORS
MEDIAN ANNUAL SALARY: $71,680

JOB OUTLOOK (2018 TO 2028): 5%

EDUCATION AND TRAINING:
Bachelor's degree and several years of experience in the entertainment industry, such as film, TV, or theater production, cinematography, or related occupations.
SET AND EXHIBIT DESIGNERS
MEDIAN ANNUAL SALARY: $54,270

JOB OUTLOOK (2018 TO 2028): 4% to 6%

EDUCATION AND TRAINING:
Bachelor's degree in set design, scenic design, theater, or another relevant field. Some experience in museum and gallery exhibit preparation is preferred.
Data Source: Bureau of Labor Statistics, 2018, and the Occupational Information Network
Salary Trends for Artists
Salaries for art careers will vary based on field of concentration, levels of experience, education, and geographic location. To give you an idea of what you could potentially earn in your field, the table below lists various art-related occupations and their respective salary trends:
Determining Whether an Art Career is Right for You
While today's job market has made more room for artists, the art world still remains a highly competitive environment. Before you consider pursuing a career in art, you have to ask yourself if you want to make your passion your profession, and if you're willing to work very hard to make things happen. Some art professions, particularly though in fine arts, can be an unforgiving, insecure, and unpredictable. You will need to be comfortable with an untraditional career path that may include periods of uncertainty and must be able to handle criticism from the peers, professors, and professionals you collaborate with along the way.
The bottom line is that people who are driven by creativity and want to make it in the art world often have a very strong work ethic to carve their own career path. If that sounds exhilarating, an art career may be right for you.
Being a professional artist requires more than creative skills, and these skills will vary depending on the type of art career you want to pursue. Below is a list of some common skills that most artists should have:
Required and Preferred Skills for Creative Types
Skills
1
Collaboration
Many art-related professions are collaborative in nature. Whether you're filming a documentary, or teaching senior citizens how to Papier-mâché, it's important to be able to work well with diverse groups and personality types.
2
Communication
Since many areas of art deal with conceptual subject matters and projects, it's important to be able to communicate your ideas clearly and effectively.
3
Originality
Creative projects succeed when everyone brings their own unique talents to the table. Those who pursue a career in art should be able to come up with new and unusual ideas and be brave enough to share them.
4
Organization
Cultivating a solid work ethic is essential for creative types, particularly for prioritizing tasks, and staying within deadlines. Your clients and collaborators will need to rely on you to deliver your work on time.
Tools / Technology
Every creative profession requires its own set of tools and technology. The following table provides a list of software platforms commonly used throughout many artistic disciplines:
1
Desktop publishing software
Commonly used by graphic designers, publishing software enables people to create high-quality page layouts for any kind of document - books, menus, signs, etc. (Ex: Adobe Illustrator, Adobe InDesign, Adobe FrameMaker, Pages by Apple, Microsoft Publisher, QuarkXPress).
2
Graphics or photo imaging software
Anyone working with photos and graphics in art will likely use some kind of graphics software to design and manipulate visual images. (Ex: Adobe Illustrator, Adobe ImageReady, Adobe Photoshop, Autodesk Maya.)
3
Web platform development software and applications
Website creation tools are available to accommodate a range of competencies. Some are more sophisticated and favored by professional web developers (Adobe Dreamweaver, Drupal), while others come with built-in templates that are easy for non-professionals to customize (Squarespace, WordPress).
4
Video creation and editing software
The use of video in art and business has increased greatly in recent years. Professional editors will use special software to edit sound, add special effects, and re-sequencing clips. (Ex: Adobe AfterEffects, Apple Final Cut Pro, Apple iMovie, MAXON CINEMA 4D software.)
Education Requirements
Most art careers require at least a four-year bachelor's degree in art or a niche area of art, while more specialized careers may require a master's degree. Because art is a very broad field, there are several different degree paths for aspiring artists. The following are descriptions of popular choices at the undergraduate and graduate levels:
Undergraduate Degrees - Three to Four Years
Graduate Degrees - Two to Three Years
Art Certificates
If you are looking to start a new art career or enhance current skills, many four-year and community colleges offer a range of art-related certificates. Certificate programs can build on existing skills to help you in your current artistic career or they can help you quickly learn the basic skills necessary to make a career change and move into an entry-level role within the art world. Searching for Art Jobs , for example, offers certificate programs in Interior Design and Interior Architecture, Landscape Architecture, and Graphic Design. City College of San Francisco also offers specialized programs such as the Certificate of Accomplishment in Portrait Lighting.
Concentrations
Many colleges and art institutes offer concentration areas at the MFA level. Below are a few samples of MFA concentration topics and programs.
Directing Concentration
This art concentration allows students to experiment with all aspects of theatre directing in real-world contexts. They're given the opportunity to work with playwrights on new scripts and collaborate with various artists (actors, set designers) on stage productions.

Printmaking
In this area, aspiring printmakers experiment with traditional and contemporary practices of printmaking: etching, lithography, screen-printing, mono-printing, photo-transfer processes, block-printing, book arts, papermaking, and computer-based imaging.

Metalsmithing and Jewelry
Art students in this specialty area spend the majority of the program in the studio learning how to manipulate metal into attractive jewelry. Some colleges also teach students the skills needed to sell their works in galleries, shops, museums, and art fairs.
Characteristic of most MFA programs, the above examples typically require students to complete a creative project in the final year of the program, with some also requiring a written thesis. They may also offset studio work with group seminars and various courses to give students conceptual and historical contexts for their craft.
Exams, Certifications, and other Credentials
Most careers in art do not entail specialized certifications for employment. However, there are few art-related areas that will require additional certifications:
Architects
In addition to earning a bachelor's degree or higher in architecture, aspiring architects must pass the Architect Registration Examination in order to be fully licensed.

Teachers
Special licensing for Art, Music and Drama teachers may be required, however, requirements vary from state to state.

Therapists
Art therapists must pass the Art Therapy Credentials Board (ATCB) exam; music therapists must pass the national board certification exam to obtain the credential MT-BC (Music Therapist - Board Certified). Both forms of therapy require a master's degree or higher in the related field.
Places of Employment
Depending on your medium, your creative talent may work well in many different work environments. The following offers a selection of possible places of employment for professional artists.
Searching for Art Jobs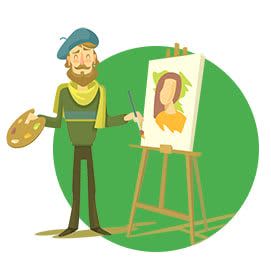 There are a number of resources available to help you search for job opportunities based on your art specialty, education, and location. Examples include:
Art Internships
Internships are strongly recommended for anyone who wants to work in the art industry. Programs are available for nearly every creative discipline from fashion to animation to arts education. Undergraduate programs usually recommend that students seek internship opportunities, while most graduate and doctoral programs make them a requirement for graduation.
Why pursue an internship?
Art internships give you the chance to complement your education with practical experience and to explore different art-related career opportunities. They also allow you to meet and learn directly from professionals in a real-world environment.
What kinds of Internships are available?
Art internship options will vary depending on your area of focus; however, programs are usually offered through university art departments, museums and other art institutions, arts organizations, and businesses. Below are examples of the many types of internships available to art students and new grads:
Zynga UI/UX Internships
Location: San Francisco, CA; San Diego, CA; Austin, TX
Zynga is a developer of popular social games. The company's UI/UX internship programs invite students of graphic design or visual development to help design and create the look and usability of a video game.


Cartographer, Editor, Graphic or Interactive Designer/Central Intelligence Agency
Location: Washington, DC metropolitan area
The CIA offers a 90-day internship to undergrads in graphic or interactive design. Working directly with CIA officers, designers create a variety of visual solutions for the agency from concept to production.


Location: Los Angeles, CA
LACMA's year-round programs teach the delicate art of caring for and cataloging large collections of costumes and textiles under the guidance of the Senior Collections Administrator. These programs are ideal for post-graduate and graduate students of costume studies, material culture, museum studies, art history, or library science.


Location: San Francisco, CA
Southern Exposure is a nonprofit arts organization and art space devoted to supporting visual artists. The organization offers an array of internships that touch on the many aspects of running a gallery including archiving, education, fundraising, and curating. Places like Southern Exposure are good for people who are interested in gaining firsthand experience in nonprofit arts-environments.


Location: Berkeley, CA
BAM/PFA offers video production internships led by the museum's digital media team. By learning all aspects of video production-from filming to distribution-interns will learn how digital media helps to further the museum's educational mission.


Find the internship that's right for you
It's important to find the right opportunity and environment that will help you to explore and grow your talents. You can start by asking your professors, department heads, and peers for recommendations. You can also search online for local or nationwide institutions and organizations. There is also a number of database sources, such as Internships.com, that allow you to research postings by field and location, paid or unpaid, and full-time or part-time.
Professional Associations & Organizations
Professional groups associated with your creative field can offer valuable resources to help further your career. They also provide a direct channel to a community of your peers.
Groups come in all shapes and sizes. Some will also require membership dues. You can search for national, state, and local professional groups to join. Here are a few examples of the various types of arts-based organizations:
About the Author
---
---