Top 10 Cities in Florida Impacted by COVID-19 Layoffs
Advertising & Editorial Disclosure
Last Updated: 11/25/2022
As unemployment claims rise across the country, communities across Florida are experiencing economic distress as workers go without pay. Unemployment claims filed in the Sunshine State since March 14, 2020, equaled just over 1.9 million, for a total unemployment number (counting those who were unemployed before the virus hit) of almost 2.3 million as of May 9, 2020. This number is projected to reach over 3 million, which would bring the current unemployment rate in Florida, currently at 22%, to 29%. Based on data collected throughout the state, MoneyGeek's team of information analysts and research professionals created projections for total Florida unemployment in some of the state's hardest-hit areas.
10. West Palm Beach-Boca Raton-Delray Beach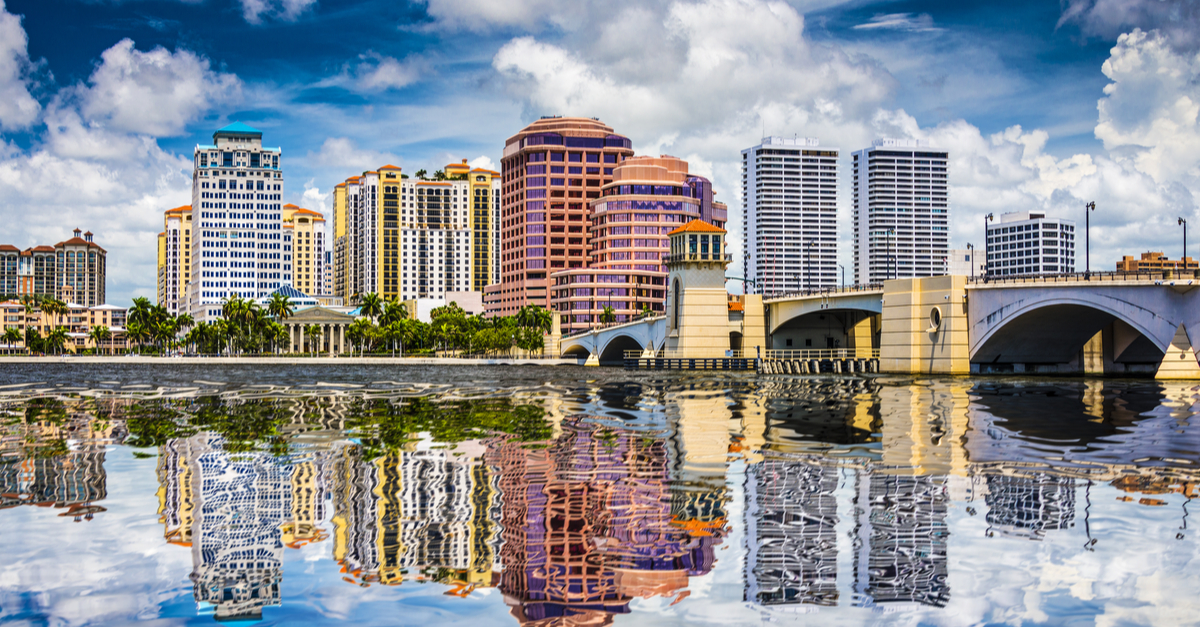 Projected Unemployment
216,279
Projected Unemployment Rate
29.14%
Operating as part of the greater Miami area, the cities of West Palm Beach, Boca Raton and Delray Beach will collectively see unemployment figures hovering around 29%. Given the high amount of tourism in this area, service-providing industries, leisure and hospitality and retail trade sectors will all be hit hard, as will transportation and utilities.
9. North Port-Sarasota-Bradenton
Projected Unemployment
110,904
Projected Unemployment Rate
29.44%
The greater North Port Area — which includes North Port, Sarasota and Bradenton — is projected to hit 29.44% unemployment in its workforce. This figure represents nearly triple the number of workers laid off during the Great Recession. Individuals working in service positions, including restaurant workers, bartenders and event staff, will see the most significant loss of jobs. Other industries hit particularly hard include trade, transportation and utilities, retail establishments, professional and business services and businesses focused on producing goods.
8. Sebastian-Vero Beach
Projected Unemployment
19,697
Projected Unemployment Rate
29.60%
Projected unemployment for the greater Sebastian Area — including Sebastian and Vero Beach — totals nearly 20,000 workers in industries spanning from trade, transportation and utilities to hospitality and leisure. Although this is a smaller metropolitan region than some other areas on the list, this part of Florida stands to see high numbers due to a lack of seasonal tourism.
7. Gainesville
Projected Unemployment
44,486
Projected Unemployment Rate
29.66%
Out of a total civilian labor force of just under 150,000 workers, 44,500 of these individuals are expected to be out of work due to the coronavirus in Gainesville. During the Great Recession, the unemployment figure rose to only 12,020, putting into stark relief the gravity of COVID-19 in this region.
6. Jacksonville
Projected Unemployment
242,190
Projected Unemployment Rate
30.37%
Jacksonville makes up approximately 8% of Florida's workforce, with nearly 800,000 workers. Approximately 30% of these workers are projected to lose their positions due to COVID-19. Industries expected to see the highest unemployment rates include service-providing businesses, leisure and hospitality, accommodations and food services and trade, transportation and utilities.
5. Crestview-Fort Walton Beach-Destin
Projected Unemployment
39,116
Projected Unemployment Rate
30.74%
The cities of Crestview, Fort Walton Beach and Destin comprise the greater Crestview area and comprise approximately 1% of the state's overall employment. Nearly 40,000 workers in this area are projected to lose their jobs, which is a drastic uptick as compared to only 3,457 unemployed individuals out of a workforce of 123,793 before the pandemic.
4. Panama City
Projected Unemployment
27,050
Projected Unemployment Rate
30.79%
One in four workers in the Miami-Miami Beach-Kendall metropolitan area is projected to be affected by COVID-19 unemployment, including those working in service-facing positions, professionals employed by trade, transportation, and utility companies, and those who provide business and professional services. The leisure and hospitality industry will also see high numbers of unemployment.
3. Naples-Marco Island
Projected Unemployment
56,965
Projected Unemployment Rate
30.85%
The greater Naples area received thousands of unemployment claims as of May 9, leading to projections of more than 30% unemployment due to the coronavirus. Those in the leisure and hospitality industry are expected to be hit the hardest, while other affected industries include retail commerce, education and health services and trade, transportation and utilities.
2. The Villages
Projected Unemployment
10,465
Projected Unemployment Rate
31.37%
The Villages' overall population may be smaller than other parts of Florida on the list, but almost 1 in 3 workers in this area is projected to become unemployed. Because many residents in The Villages are retired, this population is especially careful about coronavirus exposure and going out far less than usual. Nearly 80% of the workforce relies on service-providing jobs, highlighting how many of these workers will go jobless.
1. Orlando-Kissimmee-Sanford
Projected Unemployment
471,984
Projected Unemployment Rate
34.17%
Orlando-Kissimmee-Sanford claimed the top spot for the highest projected unemployment figures in Florida. More than one-third of residents in this area are projected to go without work during this time. This number represents more than three times the number of individuals who lost jobs during the Great Recession. Industries hit the hardest include service-providing businesses, professional and business services and leisure and hospitality.
Finding Help for Unemployment in Florida
Although COVID-19 brought unprecedented changes to Florida's workforce, there are vital resources available to workers who have been impacted by coronavirus layoffs and lost wages.
You should also know your rights if you've had to miss work because of the COVID-19 outbreak in Florida. The Florida Medical Association provides information on navigating the financial crisis, how to get tested, how to get medical treatment and more.
While Florida's current and projected unemployment rates may be staggering, there is hope as many national and local services are available to help people across the state. Reaching out and utilizing Florida's unemployment and other aid resources can help you make it through this difficult season.
About the Author
Katy McWhirter is a writer living in Louisville, Kentucky who specializes in topics such as education, personal finance, and travel.
Sources