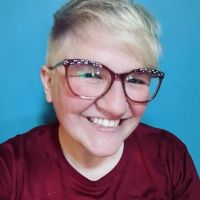 Sarah Mattie
Occupation Content Writer and Editor
Education M.A. in Theatre Education - Emerson College; B.A. in Theatre - Kansas State University
Sarah Mattie feels like she sneaked into the "financial writing party" through a side door. She began her career as a theatre and English teacher, managing classroom and activity budgets. As time passed, students started to ask questions about finances and student loans, and Mattie dug into the topics.
Ultimately, she left the classroom and became a researcher, writer and editor. Mattie's greatest passion is breaking down concepts to help people feel empowered in their day-to-day lives. This led to her writing about student financial aid, from loans to scholarships, regularly.
After a while, Mattie expanded her scope to include credit cards, private loans, refinancing and more. MoneyGeek caught her eye because it believes anyone can take control of their financial well-being with the right tools, which aren't often given to us in standard educational settings.
Latest Edited
Latest Expert Reviews