With this card, you earn one point per dollar spent on every purchase. These points do not expire as long as the account remains open. You can redeem these points at a rate of 1.5 cents for every point as cash back or for airline tickets at 2 cents for every point.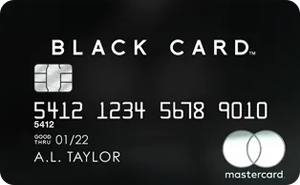 Mastercard® Black Card™ at a Glance
The Mastercard® Black Card™ offers luxury travel rewards such as a 24/7 travel concierge, $100 in airline credits for baggage fees and other expenses and an $85 TSA PreCheck or $100 Global Entry application credit. However, the card has a high annual fee of nearly $500 that holds down its overall value.
A great travel reward card with no foreign transaction fee and many travel benefits.

---

Excellent

Recommended Credit

$495

Annual Fee

1.5% Cash Back

Rewards Rate

2x

Rewards Rate on Air Travel

1.5x

Rewards Rate on Dining

---
Pros & Cons Explained
Having an idea of the pros and cons of the Mastercard® Black Card™ will help you make an informed decision about getting the card or not.
Pros
Benefits

Description

No foreign transaction fee

As this card is meant for frequent travelers, it doesn't charge international transaction fees. Many competing cards charge around 3% for international transactions.

Reward points do not expire

The points that you gain from making purchases do not expire for the life of the account.

0% intro APR on balance transfers

When you transfer a balance from another card within 45 days of account opening, you'll qualify for an intro APR of 0% for the next 15 billing cycles.
Cons
Drawbacks

Description

High annual fee

The Mastercard® Black Card™ charges a very high annual fee of $495. You will have to generate a significant level of rewards to justify the high annual fee of this card.

No bonus offer

This card does not have a sign-up bonus or any other introductory offer, which is pretty unusual for cards in this category.

Low reward points rate

Many other cards in the category offer a much higher reward rate than one point per dollar spent.
LOOKING FOR THE BEST CREDIT CARDS OF 2022?
We do not think that the Mastercard® Black Card™ is one of the best travel credit cards of 2022. We have featured other cards in our Best Travel Credit Cards of 2022 guide and this list is updated monthly. You can look at these options if you want to compare our recommended travel cards.
Bonuses & Rewards Explained
The Mastercard® Black Card™ offers a premium list of rewards and bonuses for its customers. These rewards are tailored to the needs of frequent travelers.
1
Travel Accident Insurance
In case of an accident while traveling, this card will provide coverage up to $250,000.
2
Priority Pass
With the Priority Pass, you have free access to more than 1,200 VIP lounges.
3
TSA PreCheck and Global Entry credit
You get a credit to cover the application fee of TSA PreCheck ($85) and Global Entry ($100).
Other Features Explained
With the Mastercard® Black Card™, you also get access to more travel benefits.
Card Feature

Description

24/7 concierge service

To help you save time while traveling, you have access to a 24/7 luxury concierge service through phone, live chat and email.

Baggage delay insurance

If your baggage gets delayed for any reason, you can get up to $100 per day as compensation.

Trip cancellation insurance

In case of canceled flights due to covered reasons, you'll have insurance up to $5,000 worth of coverage.
MONEYGEEK EXPERT TIP
"The perks you want to look more closely at are the room upgrades, resort credits, and free breakfast included when you book with this card." - Alene Laney, Credit Card Journalist
Understanding the Fine Print
The fine print of the Mastercard® Black Card™ will help you understand the various fees and charges associated with the card like its regular APR, annual fee, points rewards rate, balance transfer APR and foreign transaction fee.
Card Feature

Amount or Rate

APR

19.74% Variable

Annual Fee

$495

Cash Back Rewards

Rewards Rate

1.5% Cash Back

Airline Benefits
This card has a reasonable variable regular APR of 19.24%. You should pay off your balance in full every month to avoid accumulating a high amount of interest on your balance.

With a striking $495 yearly fee, this card can prove to be quite expensive if you are not a frequent traveler. Although there are many travel benefits offered, the annual fee is still high.

You get one point for every dollar you spend with this card. To maximize your rewards, you should use it for travel expenses as much as possible.

You can transfer the balance from another card within 45 days of opening the account, and you'll qualify for an intro balance transfer APR of 0%, then a variable APR of 19.24% thereafter.

This card is mainly focused on travelers; that's why it doesn't have foreign transaction fees.
WHERE TO FIND THIS INFORMATION?
The best resources for this information are your credit card issuer's website, your billing statement and the Credit Card Agreement Database maintained by the Consumer Financial Protection Bureau.
Who Should & Shouldn't Consider Mastercard® Black Card™?
Loading...
Loading...
Other Considerations for Mastercard® Black Card™
While making the final decision about this card, keep your experience with credit cards in mind as it will help you analyze if this card is a good fit for you.
Things to Consider if This Will Be Your First or Only Credit Card
You need an excellent credit score to get approved for this card. If it's your first card, having excellent credit might not be possible. This card also has a somewhat high variable APR, so you must pay your balance in full every month to avoid accumulating interest.
Even though this card is tailored for frequent travelers, you're paying a high annual fee for a significantly lower reward rate.
Things to Consider if This Will Be an Additional Card in Your Wallet
You should use this card strategically with other cards in your wallet by making everyday purchases with your other cards with a lower annual fee. This card should be used to cover travel-related expenses so you can get maximum points and increase your reward potential.
WHY TRUST OUR REVIEWS
MoneyGeek's methodology for this review involves collecting credit card information, standardizing data points, analyzing potential cardholder profiles, considering annual and introductory bonuses, establishing the card values and reviewing data monthly to reprocess rankings.
How Mastercard® Black Card™ Compares to Other Cards
As compared to other cards in the same category, Mastercard® Black Card™ has a very high annual fee and does not offer enough rewards to justify it.
Quick Comparison of Mastercard® Black Card™
---
Mastercard® Black Card™
Purchase APR: 19.24%
Annual fee: $495
International transactions fee: $0
Points reward rate: 1 point per dollar spent
Best for: Elite travelers looking for a luxury travel rewards card
Chase Sapphire Preferred Card
Purchase APR: 20.24% – 27.24% variable
Annual fee: $95
International transactions fee: $0
Points reward rate: 1-5 points in different categories
Best for: Frequent travelers looking for a card with a good points reward rate
Other Helpful Decision-Making Q&As
The following frequently asked questions about the Mastercard® Black Card™ can help you make the final decision about applying for the card.
Learn more about credit cards in general