Erie Home Insurance Review: Pros & Cons, Ratings, & More
Last Updated: 7/1/2022
Advertising & Editorial Disclosure
Overview of Erie Home Insurance
In 1924, two men who worked for the Pennsylvania Indemnity Exchange were commiserating about their jobs. On a 10-cent tablet of paper, they sketched out their idea for a new insurance company. Within four months, they started Erie Insurance Exchange with a commitment to offering "as near perfect protection, as near perfect service, as is humanly possible, and to do so at the lowest possible cost." Though the company began as an auto insurer, today, Erie provides auto, home, and life insurance. The company tends to fly under the radar, without the flashy ad campaigns its competitors use, but Erie has still managed to rank as the 10th top home insurance provider in the country, with a market share of 1.7 percent.
How Does Erie Home Insurance Rate?
Financial Strength Rating
Source

Rating

A.M. Best

A+
Effective Date: January 2020
A.M. Best's Financial Strength Rating opinion addresses the relative ability of an insurer to meet its ongoing insurance obligations. It is not a warranty of a company's financial strength and ability to meet its obligations to policyholders. View our Important Notice: Best's Credit Ratings for a disclaimer notice and complete details at http://www.ambest.com/ratings/notice.
Financial Strength is rated on a scale of D (poor) to A+ (superior). A rating notch of either a second "+" or a "-" indicates the gradation of financial strength within the category. We can't guarantee that the subsidiary of Nationwide Insurance rated here is the subsidiary that will underwrite your insurance policy. Check with your insurance agent and review A.M. Best's Financial Strength Rating Guide for more information.
Best's Credit Ratings™ are under continuous review and subject to change and/or affirmation. For the latest Best's Credit Ratings™ and Best's Credit Reports which include Best's Credit Ratings™), visit the A.M. Best website at http://www.ambest.com. See Guide to Best's Credit Ratings™ for explanation of use and charges.
Best's Credit Ratings™ reproduced herein appear under license from A.M. Best and do not constitute, either expressly or impliedly, an endorsement of MoneyGeek.com or its recommendations, formulas, criteria or comparisons to any other ratings, rating scales or rating organizations which are published or referenced herein. A.M. Best is not responsible for transcription errors made in presenting Best's Credit Ratings™. Best's Credit Ratings™ are proprietary and may not be reproduced or distributed without the express written permission of A.M. Best Company.
Pros and Cons of Erie Home Insurance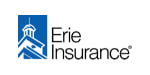 pros
Erie gives you great flexibility in terms of customization via mixing and matching coverage options or selecting one of their pre-set packages.
Erie offers business insurance, as well as auto and life, so it's easy to keep all of your insurance policies grouped together with one company. Additionally, Erie offers landlord policies — also known as long-term rental policies—as well as condo, renter, and mobile home insurance.
The website includes multiple articles on topics such as disaster preparedness and home safety and maintenance, as well as a snapshot of how Erie's base policy compares to other competitors', offering information for consumers that goes beyond simply determining their insurance needs.
cons
Erie doesn't have widespread coverage; it only writes homeowner insurance in 12 states and Washington D.C.
It's not possible to build a home insurance quote online; potential customers will have to select from a set of coverages they're interested in discussing with an agent, and then they'll need to contact an agent from the locator page.
Erie doesn't have a mobile app for its homeowners insurance customers - only for auto.
You can't initiate a claim online—instead, you have to call your local agent or call Erie at the 24/7 claims number.
Erie Home Insurance Coverage
Erie offers some standard homeowner coverages with the flexible option to add various policy extras. An agent will help assemble a package that covers all your needs.
Erie's Standard Coverage Options
The standard policy includes the essentials of structure, liability, and personal property coverages. More basic packages will likely result in lower premiums, but you will want to be diligent in selecting your additional features to ensure that nothing important is excluded from your coverage.
Erie's Additional Coverage Options
The optional coverages can be obtained by choosing an ErieSecure package at one of its three levels (Advantage, Plus and Select). The options increase as you move up the scale of available endorsement bundles.
Available Discounts on Erie Home Insurance Coverage
The discounts available for home policies are fairly limited and standard to the industry, but they may save customers money if they qualify.
Type of Discount

Description

Multi-policy discount

When you purchase two or more policies through the company, you qualify for a discount of 16 to 25 percent, depending on which state you live in.

Fire, burglary alarm, and sprinkler system credit

If your home is equipped with alarm systems, you could be eligible for this discount.

Advance quote discount

Planning ahead can pay off: If you get a quote one week to two months before your policy goes into effect, there are savings in it for you.
How to Make a Home Insurance Claim with Erie
You can file your Erie home insurance claim by getting in touch with your agent by phone or calling the 24-hour claims number. The website also includes a to-do list for homeowners who need to file a claim. Your case will be assigned a number and a handler, and an adjuster will then contact you to confirm the extent of the damage, perhaps make a physical inspection and go over the coverage provided by your policy. The company is flexible in working with a contractor of your choice or recommending one if you don't have one in mind. Erie suggests that you keep a file of your claim's details so that you can refer to it whenever you speak with an Erie representative.
How to Contact Erie Home Insurance
CUSTOMER SERVICE PHONE NUMBER

800-458-0811
About the Author
---
---