Starting a business, brand or entrepreneurial project has always been challenging, but women often face specific hurdles in their journey as entrepreneurs and sometimes with becoming financially independent. Lack of access to capital and funding and gender bias are only some of the issues women encounter as they get ready to start a business or brand. These women entrepreneurs have proven that with enough planning, drive and tenacity, anyone with an extreme desire can start and operate a successful business. Here, they discuss some of the most powerful money lessons they've learned and the sometimes bumpy roads they've encountered along the way.
1. Talk to Experienced Colleagues About Money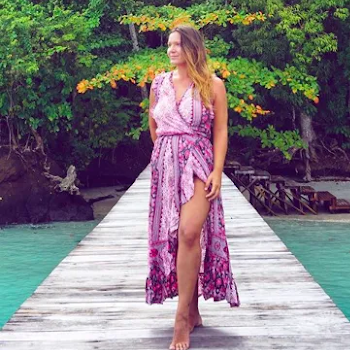 Name: Lola Méndez
Business: Freelance Journalist
Where to follow Lola: Website, Twitter and Instagram
Bio: Lola Méndez is currently based in Uruguay and first began her career by working in fashion.
Lola Méndez is a respected journalist focusing on sustainability, culture, immigration and travel, but she first began her career by working in fashion and public relations. After this, she set out to travel the world and sought out opportunities to start a career in freelance writing thanks to a post in the now 1.2 million-member Facebook group, Girls Love Travel.
A self-taught journalist, Mendez explained, "I had no idea what a fair wage was or what I should be getting for a 1,000-word piece. Being introduced to other writers, especially female journalists, is what opened my eyes to learn that 50 cents (per word) is actually a standard rate. I knew I wasn't going to jump to that in my first year of freelancing, so I started by trying to earn 20 cents per word."
Know Your Worth and Demand It
As Mendez realized she could and should be writing at a higher rate, she asked one of her current clients for a raise. When they couldn't agree on an equitable rate, she decided to pursue other opportunities and work on her portfolio. As she continued writing, she decided to be transparent about her earnings on Twitter, something she continues to do as a way to lead by example and encourage other women writers to raise their rates, learn to negotiate and advocate for themselves and fine-tune their billing practices.
Building a network with other female colleagues and industry professionals can be beneficial. Women entrepreneurs can gain valuable insight regarding wages, funds for their business and strategies to tackle similar business challenges.
2. Always Welcome New Income Streams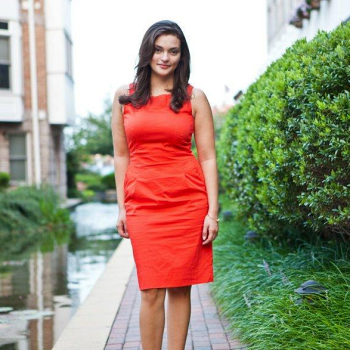 Name: Jen Ruiz
Business: Jen on a Jet Plane
Where to follow Jen: Website, Twitter, TikTok and Instagram
Bio: Jen Ruiz is currently based in Puerto Rico and continues to write books, be active on social media and do virtual speaking engagements.
Jen Ruiz is a lawyer, author, blogger and public speaker. Though she worked as an attorney, she decided to challenge herself to travel to 12 destinations in 12 months before turning 30. This self-challenge encouraged her to write a book about how to find affordable flights. The book ultimately succeeded, and she was able to transition into working online thanks to the passive income it provided. Additionally, Ruiz took a second job teaching English online so she could fund her travels.
Use Social Media to Scour for Business Opportunities
As the COVID-19 pandemic forced travel bloggers to change their niche, Ruiz once again decided to pivot, pouring much of her energy into writing books. "In the digital creator space, people don't always understand what you do when you say you're a blogger or videographer, but 'author' is a recognizable title," says Ruiz. Once she realized the pandemic would be around for a while, she planned to do something different. Ruiz created a TikTok account that grew to 100,000 followers and also opened doors to other opportunities. "Act, keep moving and keep doing things," she advises.
3. Your Passion Can Be Monetized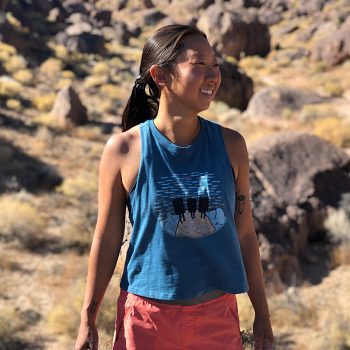 Name: Leslie Kim
Business: Dynamite Starfish
Where to follow Leslie: Website, Facebook and Instagram
Bio: An experienced graphic designer, Leslie Kim continues to look for new places to go rock climbing while also filling a void in the climbing and arts world.
A trained graphic designer, Leslie Kim was working at a full-time job when she decided to start creating her own art on the side. Kim always had artistic inclinations, and she knew from a young age that she wanted to work independently. Eventually, she decided to work on her projects at night and submit her artwork to art walks, local art shows and other venues that enabled her to bring her art to an audience. Around this time, Kim once again took up rock climbing after leaving this hobby a few times. Focusing on rock climbing influenced her art, and her friends suggested printing t-shirts featuring her work.
Ask For Help From Experts
"At first, I...thought (printing and selling t-shirts) was a stupid idea, but the seed was planted," says Kim. Eventually, she began screenprinting her own shirts and exploring other possible designs. As her business grew, she was able to expand. Now, in addition to selling t-shirts, stickers and other gear featuring her artwork, her brand is also committed to donating 5% of its profits to nonprofits and organizations working on conservation efforts.
"When I first started, there just wasn't anyone else doing what I do, so I didn't have anyone to turn to," Kim says. She admits that she still has some weak spots when it comes to running a business, "I'm terrible at accounting, but I'm learning to ask for help," she says. Thanks to her passion for rock climbing, art and conservation, her company, Dynamite Starfish, has continued to thrive over the past six years. Clearly, knowing when to ask for help is serving Kim well, and it can benefit you, too.
4. Small Businesses Can Thrive in Local Communities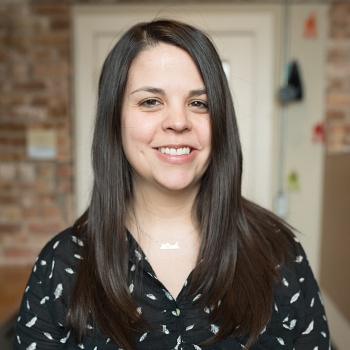 Name: Mariah Cobb
Business: Homiey Chicago
Where to follow Mariah: Website, Facebook and Twitter
Bio: Mariah Cobb is the co-owner of homiey in the Humboldt Park neighborhood in Chicago, where she continues to live and work.
Like any major city, Chicago's downtown workspaces are more expensive than in the many local neighborhoods near the city center. It can be inconvenient for people to have long commutes just to use a coworking space. Mariah Cobb noticed that most coworking spaces in Chicago were located downtown, an area that is far from her neighborhood. She saw a need for coworking spaces in communities where people live and set out to fulfill that need. Thus, her coworking business, homiey, was born.
At first, she wanted the community space to be a café with a coworking space, but she had to nix the idea. "(We) saw a need in the neighborhood from folks, friends and people we know to have that kind of space they could work in and be productive but also kind of stay in their neighborhood." Once they found a space for their business, she and her partner focused on ensuring it would remain affordable, be in her local neighborhood and have art exhibits and events for the community.
Take Time to Strategize
Cobb's focus on creating a space with her neighborhood in mind helped ensure membership grew and influenced her plans. Cobb eventually decided to open up her space to artists and had a much better response than she'd hoped. Before the pandemic, her space hosted events for the neighborhood. Like so many business-owners during COVID-19, she had to pivot her operations a bit to help her business survive. She switched to a reservation-only model and scaled back events for the foreseeable future. She advises budding entrepreneurs to "work on the business, not just in the business." According to Cobb, it's essential to take some time every day or even once a week to make sure you're executing a plan and being strategic about it, "especially if you're bootstrapping like we did," she adds.
5. Keep Your Day Job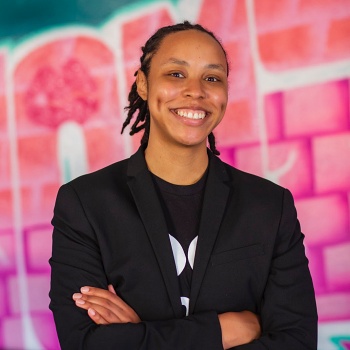 Name: Ebonie Cobb
Business: Homiey Fruitvale
Where to follow Ebonie: Website, Facebook and Instagram
Bio: Ebonie Cobb was an education recruiter prior to opening up homiey in Fruitvale and is a native of Chicago.
Ebonie Cobb had just quit her job when she was deciding what she'd do next. Her former job required her to travel all over the country, and being a queer woman of color, she didn't always feel safe. Cobb would sometimes resort to working in her car while using a hotspot. Her brother and sister-in-law own homiey Chicago. When they suggested opening up a location in Oakland's Fruitvale neighborhood, she decided to try opening up her own homiey location in Fruitvale. Her business' second anniversary will be in March.
Save Money and Stay Flexible
Cobb had difficulty finding outside investors, so she used her savings to finance her business at first and did "the one thing every business owner tells you not to do," which is put some of her expenses on her credit cards. She worked a full-time job while her partner ran homiey. Since they were running their business as a family unit, they ran into some obstacles when trying to apply for pandemic assistance as small business owners such as grants, loans and the government-backed Paycheck Protection Program (PPP) because they didn't have a payroll.
Even so, she continues to work hard to ensure homiey Fruitvale can thrive. Because of California's shelter-in-place orders, she had to shut her space down for four months. However, her business has an outdoor space, and once things slowly reopened in California, she was able to safely hold outdoor events. She had to pivot the use of her space and shut down the coworking portion of her business, but now uses it as an art gallery. Even then, she credits her frugal past habits with her success. She focused on ways to save money and kept a savings account over the years that she was able to turn to, and along with being open to changes and keeping a day job, she's been able to run her business successfully during a tough year.
6. Use Adversity to Spur Creative Business Ideas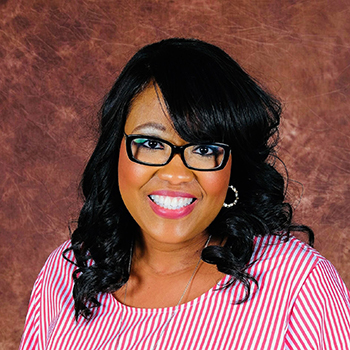 Name: Vikita Poindexter
Business: Poindexter Consulting Group
Where to follow Vikita: Website, LinkedIn, Facebook and Twitter
Bio: Vikita Poindexter has been working as a human resources consultant for 21 years. She is also the president of the California state chapter of the National Association for Women Business Owners.
Over twenty years ago, Vikita Poindexter went into management and human resources consulting after a successful run at a corporate job as a vice president of human resources. Her son was facing medical issues, and becoming an entrepreneur enabled her to work while giving him more attention and caring for her daughter. At the time, it was uncommon for people to work from home, but starting her own business was the only way for Poindexter to care for her children, work and meet her obligations.
Her new venture was not without its challenges. "Initially, I didn't have the knowledge of [how to] run a business, but I knew human resources," Poindexter says. As time went by, she tweaked her plans according to what was working for her. Along with the ability to have a flexible schedule, Poindexter explains that becoming a consultant means assuming additional financial responsibilities such as paying for private health insurance.
Use Credit Wisely
Poindexter cashed out her 401(k) to start her business, but she made sure she understood the implications of this and additional money moves. "I had to deal with my credit cards. I had medical bills that were through the roof," she says. She is now living debt-free, has a thriving business that provides human resource consulting and HR services and has employees who now work for her. Poindexter and her firm are often expert witnesses in court trials involving labor law. "You just turn your challenges into triumphs," Poindexter says, "That's just how I live my life."
Business owners come from all walks of life, and Poindexter suggests that anyone who has a passion for business should start now, regardless of their circumstances. She explains further, "Obviously, you want to start the correct way and know that you're not going to get it right the first time. You need to think about what sets you apart. You're going to face challenges in your business when you're starting and even with this pandemic. I maximized my credit cards, but I also know the importance of paying them off within 30 days so that I'm not accumulating interest."
Keep Business and Personal Finances Separate
She also suggests getting outside help, such as finding a dependable tax advisor or bookkeeper. If you find yourself in the position of having to use loans or credit cards, Poindexter suggests using ones with the lowest interest rates to build your business' credit so that your business expenses don't end up tied to your personal finances.
Structure Your Business Properly
Poindexter also suggests looking into financial assistance from the Small Business Association for women-owned businesses and looking into their many programs. In California, businesses may qualify for the California Rebuilding Fund. Still, all business owners should make sure their businesses are structured the right way to qualify for these funds. "Decide if you want to be an LLC, an S corporation, or a C corporation," she advises. Additionally, all businesses require investment at some point, but that's why it's so important to save receipts. "Remember that everything is a tax write-off," advises Poindexter.
Female entrepreneurs face well-known challenges, but tapping into your passion, finding your tribe, coming up with creative ways to fund your woman-owned business and being open to change can help you set the stage for success. Hopefully, the stories of these women can inspire those of you looking to succeed in your own way and make smarter money decisions.
About the Author
Ingrid Cruz is a Mississippi-based writer for MoneyGeek. She has covered student loans, financial advice and successful people in business.
Sources