Please fill out all the required fields.
1

Enter your information to see if you should refinance your home
Pop your original loan details and refinanced mortgage details into our calculator, and we'll show you if you should refinance as well as how much your monthly payments may be. We don't ask for your personal information or e-mail address, so you won't receive any phone calls or spam.
2

After you enter your information
Click on the charts to learn even more about your payments and refinance costs!
Loading your results
Click Update Results to refresh.
Savings/Breakeven Timeline
This graph displays your savings over the loan term and when you will break even. Click on the points on the graph to see more details.
Tap on graph for more details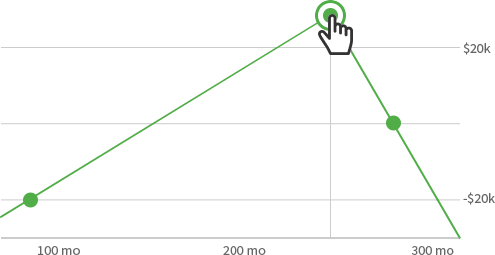 Total Savings: $28,299
$285 / month
Monthly Payment Comparison
This graph displays your current monthly mortgage payment versus your monthly mortgage payment if you were to refinance. Use the slider underneath to see the breakdown of each payment for any month.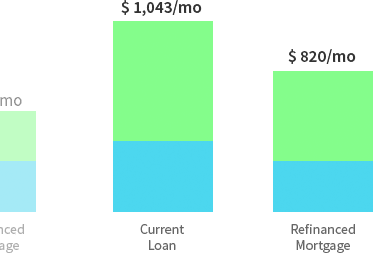 You could save up to
$$/month by refinancing

Move slider to compare payments for the selected month.
Total Interest COMPARISON
This graph displays how much interest you would pay over the remaining life of your current loan versus how much you would pay over the lifetime of your refinanced loan(s). Click on the graph to see more details.
Tap on graph for more details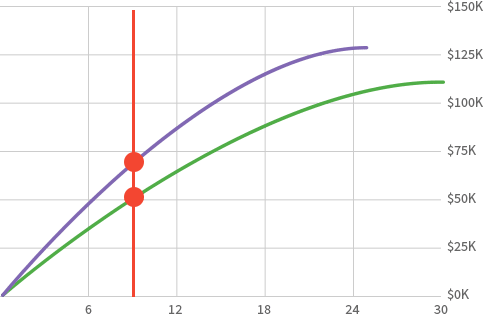 You could save up to $17,899
in interested paid over the next 30 years.
Current Loan:




$ 199,992

in interest over the next

25 Years

Refinanced Mortgage:




$ 112,093

in interest over the next

30 Years
How to Use the MoneyGeek Refinance Calculator
The MoneyGeek Refinance Calculator is designed to help you make a smart, fully informed decision if you're thinking about refinancing your mortgage. Bookmark this page and use it to compare lender offers, years to pay off your loan, and how much a small change in your interest rate may cost you over time. Here's how to use the calculator.
| Inputs | Current Loan | Refinanced Mortgage |
| --- | --- | --- |
| Loan Amount | The value of your existing mortgage. | The MoneyGeek calculator uses your starting loan amount, date, and interest rate to estimate your current balance. |
| Term of Loan | The length of your mortgage expressed in years. | Will you extend your loan term back out to 15 or 30 years? That will add a pile of interest expense. Or, you could pay off the loan in the same time you have left on your existing loan, or less. |
| Interest Rate | Double-check your most recent mortgage statement for your rate, especially if your loan has a variable rate. | If you don't have any offers from lenders, or if you'd like to apply for a loan to get an offer, visit the MoneyGeek mortgage rates page to check current rates. |
| Loan Start Date | Enter the month and year you made your first payment. | Enter the month you would like to refinance. |
| Remaining Loan | The remaining balance of your existing mortgage. | N/A |
| Points | N/A | Are you paying points to your lender in exchange for a lower interest rate? Enter them here. |
| Refinancing Fees | N/A | Enter 3 percent to 6 percent of the loan amount as an estimate. Lenders will provide closing costs details to you after you apply for a refinance. |
| Cash Out | N/A | If you plan on borrowing more than the remaining loan amount and taking the difference in cash, you would input that amount into the "Cash Out" field. |
MoneyGeek's Refinance Calculator illustrates whether the refinance rates and terms you're considering make sense. After you enter your loan values, click on the "Get Results" button. Look at the summary chart to see what factors you need to weigh in your decision. Then play with graphs below the summary chart to read a customized analysis of your situation.
| Outputs | Refinanced Mortgage |
| --- | --- |
| New Monthly Payment | MoneyGeek's estimate of your new loan's principal and interest. |
| Monthly Savings | This is the amount you would save on your monthly payment with a refinance. |
| Breakeven Point | After you pass this point, your total savings will be greater than your total costs of refinancing. |
| Savings Over Lifetime of Loan | This is how much money you could potentially save over the course of the new loan term. |
Four Ways to Pay Off a Mortgage Faster
Signing a mortgage for a purchase or a refinance is a long-term commitment for a whole lot of money, probably hundreds of thousands of dollars. Wouldn't it be nice to pay less?
You can cut the interest you pay on your loan even after you close the sale on your property. Below find four ways to cut your lifetime interest expense. Each is based on the simple fact that the longer the term of your loan, the more interest you will pay. On the other hand, if you shorten the loan term you will pay a lot less in interest over the life of the loan.
Here are four ways you can save money on your mortgage:
| | |
| --- | --- |
| Goal | Pay a little extra in your monthly payment to reduce your overall mortgage debt and loan term. |
| Problem | None. |
| What to Do | Notify the lender you are adding to your payment and it must apply the extra to reduce your loan principal. |
| Result | Your extra payment to your principal will reduce your overall interest expense, and over time may shorten your loan term. The amount you save is directly proportional to how much extra you pay and how often. |
| | |
| --- | --- |
| Goal | Reduce your mortgage cost by refinancing to a lower interest rate. In some cases, you may reduce your monthly payment. |
| Problem | Depending on when you obtained your mortgage and the quality of your credit at the time, your present interest rate may be high. More than half of all mortgages are 1.5 percent or more than current rates. If your rate is 1.5 percent or more than current rates, a refinance may save you a bundle. |
| What to Do | Put your current balance and rate into the MoneyGeek refinance calculator, along with today's rates. For example, a homeowner with a $200,000 mortgage, 30-year term and a 5 percent interest rate pays $1,074 a month, or $386,640 over the loan's term. |
| Result | Using our example, cutting the rate to 4 percent will reduce the payment by about $120 per month and $42,000 over the loan's term. |
| | |
| --- | --- |
| Goal | Make one extra mortgage payment each year — 13 payments for the year. |
| Problem | None. |
| What to Do | Notify the lender when you want to make your extra payment so it will use it to reduce your loan principal. |
| Result | A 13th payment reduces the total amount you owe as well as reducing the principal upon which your interest rate is calculated. Over time, you will shorten the loan term (the total number of payments) and cut your interest expense. |
| | |
| --- | --- |
| Goal | Make a mortgage payment every two weeks — 26 payments a year. |
| Problem | Most banks and credit unions are not set up to receive bi-weekly mortgage payments. Although there are third-party firms that act as intermediaries to set up and make biweekly payments for you, you will need to pay them a fee - negating much of the advantage of your extra payment. |
| What to Do | Take a single monthly mortgage payment, say, $2,400, and divide it by 12, which comes out to $200. Now send your lender $2,600 each month. |
| Result | The lender already has you down for $2,400. The extra $200 is applied to the principal of your loan - thus reducing how much you will owe in total, as well as reducing the amount the lender uses to calculate the interest you owe. |