7 Ways to Save on Holiday Travel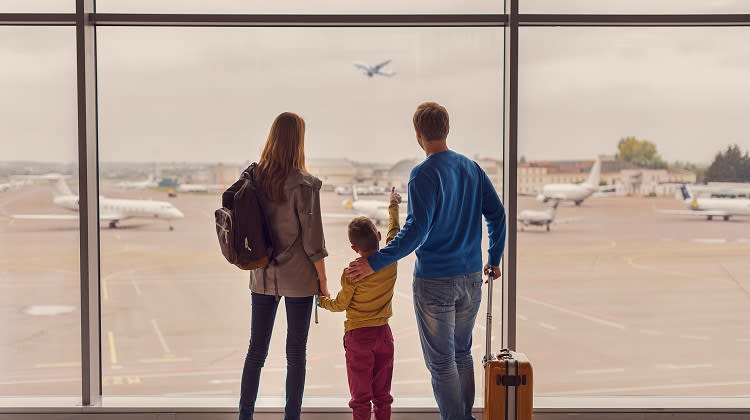 The holidays are a time for family bonding, eating and drinking – and, if you're not savvy, paying way too much for airfare, airport parking and rental cars.
Thanksgiving and Christmas are among the busiest travel times of the year, with tens of millions of merrymakers piling into U.S. airports. The first rule of holiday travel is to plan ahead. Airfares spike in the weeks before a flight, hotels get booked and rental cars grow scarce.
Garrett Townsend, public affairs director of AAA Auto Club Group, recommends making technology your friend: Set up an alert on Google Flights, and it will alert you to moves in prices to your holiday destination.
Alternatively, go old school. "It's a little out of style, but a travel agent can help you find the best price," Townsend says.
Here are some other tips for celebrating the holidays without draining your wallet:
Check second-tier and even third-tier airports
Major airports have the most plentiful flights, the fiercest competition and, usually, the cheapest fares. But that's not always the case. Sometimes, out-of-the-way airports like Stewart International (an hour north of Manhattan) or Chicago Rockford International (an hour west of Chicago) can boast deals that elude travelers who don't expand their searches.
Since fewer airlines serve these airports, however, they're no sure thing. But it's worth giving it a try. Flying to southern California? Check fares not just into Los Angeles International but also to John Wayne, Hollywood Burbank, Ontario and Long Beach. Heading to Miami? Shop fares at Fort Lauderdale-Hollywood and Palm Beach International.
Shop the discounters – but beware
A new breed of discount airlines such as Spirit, Allegiant and Frontier offer cut-rate fares. These can be a great deal, but know what to expect. "On those low-cost, no-frill airlines, there's a cost to everything," Townsend says. That includes seat assignments, checked bags, carry-on bags, even water and snacks.
And, unlike the major carriers, they don't boast robust networks that can bounce back from weather delays. If your flight on American or United is delayed or canceled, there's probably another plane leaving in a couple hours. That's not always the case with discounters.
Weigh the costs and benefits. If you're flying with a family of four and the budget carrier is cheaper by $250 per ticket, go for it. If you're traveling solo and the savings is only $50, maybe it's not worth it. "You have to know what you're getting into and be realistic," Townsend says. "During the holidays, you want to see family and friends, and if the risk is being delayed for a day, maybe saving a few dollars isn't worth it." You might also want to look into travel insurance.
Rent a car and buy parking well in advance
For most of the year, airport parking spots and rental cars are plentiful. But during the holiday travel rush, parking lots fill quickly, and rental cars become scarce. This can force you into parking in a more expensive lot or renting a more expensive car if nothing else is available.
So, as soon as you've found a flight, take steps to secure parking and a rental car. "The more you plan in advance, the better off you are," Townsend says.
Don't bring presents with you
Bearing gifts feels festive, but if you're flying to your destination, you'll probably have to pay a steep price to play Santa Claus. Airport security officers aren't keen on wrapped packages, and airlines have been ramping up baggage fees. If you buy gifts on Amazon, have them shipped directly to your destination. Or use UPS or FedEx and travel light.
Don't expect to cash in frequent flier miles
With airline points programs growing ever-stingier, the odds are long that you'll be able to use frequent flier miles to fly for the holidays. However, Townsend says, many credit card rewards programs are more flexible – and more likely to let you cash in points for tickets during high-demand periods.
Consider flying on the holiday
Okay, no one really wants to travel on Thanksgiving, Christmas Eve or Christmas Day. But the savings can be dramatic. We did a spot check on Expedia for flights from Chicago O'Hare to Los Angeles International. Leave on Friday, Dec. 22, and the best fare on a major carrier is $409 on American. Depart on Christmas Eve, and the price drops to $298 on United. Another upside: Airports and planes will be less packed.
Search for prices at 1 a.m. Wednesday
Airfare deals can pop up at 1 a.m. on Wednesday. That's because many airlines post their cheapest fares on Sundays and Mondays, then let travelers hold reservations for 24 hours before committing. If shoppers decided not to follow through, Townsend says, those reservations typically lapse midweek in the wee hours.
Jeff Ostrowski is a veteran journalist who has covered real estate and personal finance for more than 20 years, and contributes articles about homebuying, insurance and financial planning at MoneyGeek.com.
You may Like
Leave a Comment
Get Money Tips Straight to Your Inbox