Survival Lessons from the Florida Superstorms, Part I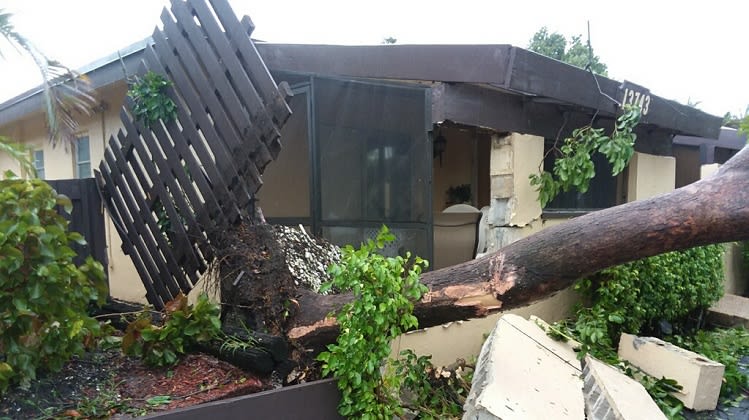 Three years ago, a torrential rainstorm pummeled my neighborhood in Palm Beach County, Florida, dropping 18 to 22 inches in less than 24 hours. The flooding started at 3 a.m. just as a panicked neighbor called to wake me up. "Throw all of your towels on the floor and start mopping!" she shouted. "Pull electrical plugs if you can. Try not to get electrocuted!"
Half asleep, I edged off the bed, landed in ankle-deep water and started tossing sheets and anything terry cloth across the room like limp Frisbees. I hopped onto a sofa, balancing on cushions while trying to yank electrical cords. Water continued to seep under the doors, and a geyser of storm water spewed from the shower drain toward the ceiling. A soppy armada of books, pillows and shoes bobbed past me as the waters rose and my brand-new wood floor started to buckle. Outside, I could see knee-deep water in our courtyard.
When I'd moved to Florida from California some years earlier for family reasons, flood insurance seemed like a luxury. I didn't live in a high-risk area, and my home insurance agent downplayed the need for it, as if he were doing me a favor by saving me money. But making a water damage claim or rebuilding was the last thing on my mind as I raced to check on older neighbors and my cats.
The 2014 storm - called "staggering" by the National Weather Service — didn't merit a name or even rise to the status of "tropical storm." It barely made the local news — let alone the national news — yet it submerged highways and shopping centers in waist-deep water, closed parts of Interstate 95, damaged 200 homes and totaled thousands of cars. Two people died just blocks from my house when floodwater swallowed their cars and they drowned.
Once the storm waters receded, I found my house would have to be dismantled down to the studs and rebuilt. Without flood insurance or a FEMA declaration of an emergency, the cost of repair had to come out-of-pocket — and mine were empty.
Fast-forward to 2017. After three years of grueling work, my house is almost back to normal. Had I known enough to get flood insurance in Florida's "low risk" zone when I moved here, my home would still be mine, free and clear. Instead, I had to work frenetically to get a flood disaster loan from the Small Business Administration. I felt lucky to get a loan for $54,000 (although only one-third was designated for structural home repairs) - a loan I'll be paying off for years.
Accepting a government disaster loan comes with a mandatory provision to purchase federal flood insurance annually for the life of the loan. Still, lessons were learned. This year as my flood insurance payment came due, Hurricane Harvey battered Texas and weathercasters were promising a "bad" storm season (as if there is such a thing as a "good" storm season). As Harvey grabbed the headlines and evening news, I expanded my coverage. If my home floods again, I reasoned, at least insurance would pay for the damage.
Preparing for more and bigger hurricanes
Last year, as I negotiated with building repair contractors and balanced a disaster loan budget that was doled out in dribs and drabs, pending documentation of incurred expenses, Hurricane Matthew emerged from the Atlantic. It threatened a direct hit along Southeast Florida.
A déjà vu-sense of dread consumed me. As I ran around pre-storm, prepping for the probability of doom — which is to say, buying cases of water, canned food, extra toilet paper and batteries — another lesson was learned. Don't wait until the forecasters announce bad news: assemble a hurricane safety kit well in advance.
So in August, as Hurricane Irma swirled off the coast of Africa and started churning west across the Atlantic as a possible Category 5 hurricane with gale force winds of 180+ mph — I was up to the task and ready to do battle. But there were a few things I hadn't counted on.
Following Red Cross guidelines, I assembled an emergency kit with at least three days' worth of food and water, medical supplies, pet food, key documents, a change of clothes and other essentials. All and all, my safety stash included emergency equipment; several battery-operated radios with back-up power; an ancient propane-fired cooking stove owned by my father and likely used during Hurricane Andrew. I even had my old emergency earthquake pack from San Francisco.
I needed more food and water, but I had nearly a week before Irma's predicted arrival, with early reports warning of a direct landfall on Palm Beach County. Then on September 4th, Labor Day - six days before Irma was expected to hit — my doorbell rang 10:30 a.m. and there stood a neighbor. "Publix is out of water," he said. Alarmed by Hurricane Harvey's trail of disaster, the folks of Delray Beach, Boca Raton, Boynton Beach and other communities surrounding my home had stockpiled supplies like it was World War III.
Despite some work deadlines and sunny skies, I decided to head out and stock up, too. I tried two Publix supermarkets, two Walgreens, a super Wal-Mart, and a CVS: None of them had bottled water. No one had water purification pills, for that matter. Panic had spread like, well, the wildfires torching California. If there was a direct hit from Irma, my neighbors and I might run out of drinking water before we were rescued.
To be continued in part 2: "Surviving Irma: Lessons for the Hurricane Next Time"
Financial journalist Carolyn Marshall specializes in investigative reporting. She is a contributor to MoneyGeek.com, an adjunct professor of journalism at Florida Atlantic University and a former contributing writer for the New York Times.
You may Like
Leave a Comment
Get Money Tips Straight to Your Inbox