When the Confederacy is a Liability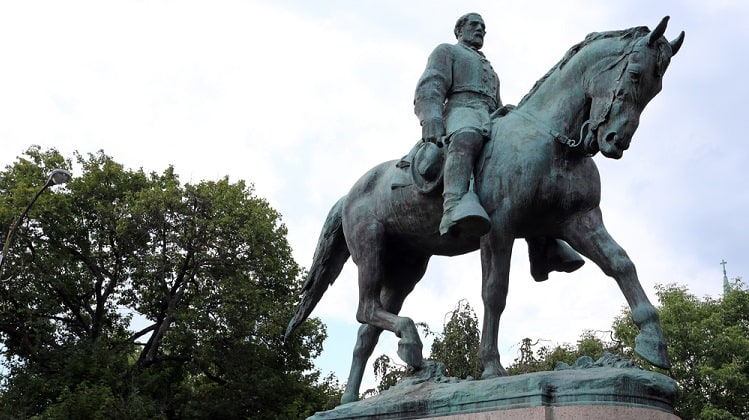 Confederal General Robert E. Lee has transcended history to become a liability. And not just Lee, but some 700 of his colleagues in the Confederacy - long ago cast into bronze and standing in mute vigil over public spaces scattered throughout the United States, mostly in the Southeast. Towns that don't carry adequate insurance coverage might do well to consider their options in the wake of rioting in Charlottesville, Virginia.
Riot insurance was once needed only for major cities that host potentially controversial events like political conferences and conventions. But now riot coverage is being considered in midsize cities and small towns, especially across the South, where more than 700 Confederate monuments still stand.
With 223 monuments, Virginia leads the nation in number of publicly supported spaces dedicated to the Confederacy, according to the Southern Poverty Law Center. Rounding out the Top 10 states, Texas is second with 178, followed by Georgia (174), North Carolina (140), Mississippi (131), South Carolina (112), Alabama (107), Louisiana (91) Tennessee (80) and Florida (61). This does not include historic markers located at battlefields and other significant sites related to the Civil War.
At least 12 states are mulling plans to relocate their Confederate memorials. Officials in Arizona and Pennsylvania say they're not moving any statues. Another eight states, including California, Texas and Florida, have removed at least some Confederate memorials from public spaces.
With the threat of additional demonstrations looming over the removal of Confederate statue monuments, property insurance –which usually covers only natural phenomena like fire, flooding and wind — may not be enough to protect a town. Small business owners may find out too late that their insurance does not cover losses due to rioting.
If a business has to close temporarily, regular property insurance pays nothing unless there is actual physical damage to the property that prevents operation, according to the Insurance Information Institute. In addition, some regular property insurance policies also have exclusions for "civil unrest."
"Ever since 9/11 we're required to offer riot or terrorism insurance," says Ryan Andrew of The Andrew Agency in Richmond, Virginia. "Every time a business owner purchases commercial coverage they're offered riot insurance, but few elect it. It's not expensive, usually a couple hundred dollars a year."
Since the Charlottesville riots, Andrew says his office phones have been ringing with inquiries about riot insurance.
"We've seen an uptick in inquiries," he says, "but more from homeowners than businesses. It's very important coverage, but to be perfectly honest, in my career we have sold less than 10 of these policies out of six or seven thousand clients." He adds that a town must first declare a riot before insurance companies will honor the policy.
Charlottesville the day after
Unlike major cities where police receive special training and equipment to deal with mobs and local governments carry riot insurance protection, small towns are ill-prepared to deal with violent street clashes.
Charlottesville certainly was not ready. As a Charlottesville native, I was a witness to the devastation. The day after the riot, the town mall was surprisingly busy but signs of the street fighting were still evident in the heart of downtown: Overturned newspaper boxes. Broken glass strewn in the streets alongside rocks the size of baseballs. Police barricades and a desolate, post-apocalyptic atmosphere in the public park where it all began.
At 4th and Water, a block off the bricked mall, hundreds of flower bouquets wrapped in translucent cellophane were piled in a semi-circle where the day before a white nationalist had plowed his Dodge into a crowd of peaceful protestors. One woman, 32-year-old Heather Heyer, was killed, and nearly two dozen more were injured. Two state police officers monitoring the situation from the sky were killed when their helicopter crashed just outside the city limits. Some bystanders on 4th Street hugged and cried. Others were visibly angry.
I wandered the streets of my hometown, mourning the loss of life, the chaos and destruction. How does a city, any city, prepare for an invasion and the consequent damage left in its wake?
When and how the city will pay for all the costs associated with the deadly rioting in August remains an open question. If history provides any guidance, the answer will likely involve taxpayers' money. The city doesn't have riot insurance, and a much smaller July rally held by out-of-state members of the Ku Klux Klan (KKK) cost city taxpayers $35,000.
Meanwhile, one "black daughter of the Confederacy" - a descendant of slaves — urged that the Confederate monuments be moved to museums. "To all the bronze Confederate soldiers, in whom I see the image of my great-great-great-grandfather, I would extend this grace," wrote Lisa Richardson, a former member of the Los Angeles Times editorial board, in the Times. "Without resentment or rancor, I would move them into museums and there tell the story of their lives. I would end their utility as flashpoints for racism and division, and, once and for all, allow them to retire from their long service as sentries over a whitewashed history."
Next week: Part II of a series on small towns and riot insurance:
Could an Insurance Loophole Have Prevented the Charlottesville Tragedy?
Steve Evans is the former managing editor of the Central Virginia Media Group. His stories on business and personal finance have been carried by Benzinga, Yahoo Finance, MSN Money, Narrative and many other outlets.
You may Like
Leave a Comment
Get Money Tips Straight to Your Inbox