Would You Crowdfund Your Mortgage Down Payment?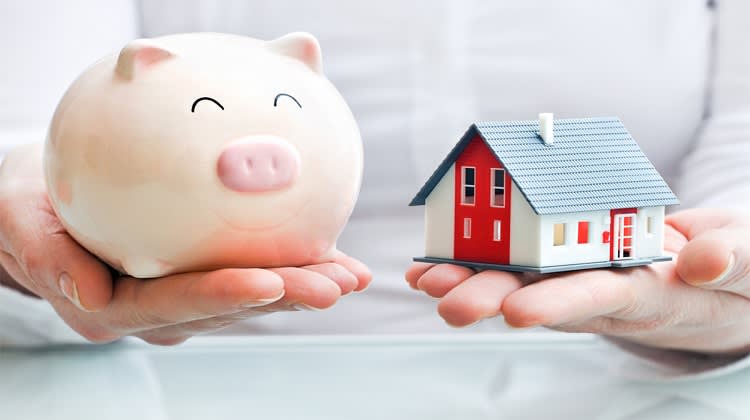 Jeff Smith became a first-time homeowner at age 62, and he credits a new crowdfunding platform with making his purchase possible.
Smith and his college-aged daughter, Hannah, raised down payment contributions of $11,100 from family, friends and even a few strangers through HomeFundMe, a crowdfunding site created by California mortgage bank CMG Financial.
"We were blown away," says Smith, who earns his living as a candy maker. "It's gotten us into the real estate market, which for many years I didn't think we'd be able to do."
The Smiths moved into their $195,000 house in Fresno, California, in 2017.
HomeFundMe's background
CMG Financial, for its part, launched the platform to address a common challenge among first-time buyers: In today's climate of rising prices and tight inventories, scraping together a down payment poses a significant challenge.
CMG Financial began testing HomeFundMe in 2017 and officially launched in early 2018. The crowdfunding site was inspired by GoFundMe and Kickstarter, with the twist that donations go to a would-be buyer's down payment fund.
The platform doesn't collect fees on contributions and charges nothing for payment processing. (GoFundMe, by comparison, ended its 5 percent fee on contributions but still collects a 2.9 percent payment processing fee.)
The bank spent months negotiating the details of its platform with Fannie Mae and Freddie Mac, and the mortgage giants ultimately signed off, says Paul Akinmade, chief marketing officer at CMG Financial.
As of mid-January, buyers raising money through HomeFundMe had closed on 90 deals, and 300 more buyers were seeking funds. The platform is open to buyers in any state. HomeFundMe doesn't work for FHA loans, but it can be used for jumbo loans, Akinmade says.
How much can you raise?
Borrowers typically aim to raise 3 percent of the purchase price, which is the minimum down payment for conventional mortgages bought by Fannie Mae and Freddie Mac.
Donors can give as much as $7,500. For contributions of $500 or more, donors must sign a gift letter, but Akinmade says DocuSign allows for electronic signatures and makes that process painless - and paperless.
The site aims to smooth the process for friends and family members to contribute to a down payment fund.
"It's easier to give blood than to give money for down payment assistance," Akinmade says.
Friends and family can make their gifts conditional, meaning they get their money back if the recipient never closes on a house - or if, as Akinmade jokes, your flaky brother-in-law decides to blow the money on a bender in Cabo rather than a down payment.
Who can contribute to your down payment?
Aside from the usual suspects of friends, family and Realtors, Akinmade sees a wide variety of funding sources. HomeFundMe has partnered with wedding registries so couples can ask for down payment assistance rather than flatware and dishes.
HomeFundMe also assigns each buyer a fundraising coach, and that person helps borrowers tap their social media networks to get the word out.
The site also opens the door to Realtors rebating some of their commission for down payments, a practice that's normally prohibited. Akinmade says Fannie and Freddie agreed to a variance that allows Realtors to divert part of their fee to the buyer's down payment.
Employers can contribute, too. And, in one case, a buyer found that passing out flyers at her church brought in contributions.
Proceed with caution
Buying a home with someone else's money might seem like a recipe for higher default rates, but Akinmade says accepting down payment assistance from family creates peer pressure to stay current on payments. After all, Thanksgiving dinner could be awkward for a borrower who defaults on a loan after hitting up family for extra help.
"The skin in the game is more emotional than financial," Akinmade says.
It's also important to note that in order to use the HomeFundMe crowdfunding platform, the prospective homebuyer must get a mortgage through CMG Financial. Before committing, you'll want to shop around and make sure CMG's rates and fees are competitive.
A happy ending after hardship
Since the Great Recession, the housing market has proven challenging for first-time buyers. Renters face the combination of hefty student debt, stagnant incomes and sharply rising home prices.
However, HomeFundMe isn't just for millennials, Akinmade says. A significant number of borrowers using the platform are older Americans who lost homes during the housing crash.
In the case of the Smiths, $11,100 in donations flooded in during two weeks in August, eclipsing their goal of $6,100. Some of the gifts were for as little as $15, $20 or $25. Akinmade himself kicked in $100. The largest contribution by far was $5,000 from Jonathan Smith, Jeff's older brother.
Their story was made especially poignant by the loss of Jeff's wife and Hannah's mother, who died of cancer in 2016.
Hannah says HomeFundMe was remarkably easy to use and gave her and her father a bit of leverage in a hot housing market.
"It was a hard journey," she says, "because we'd find something we liked, and then somebody would outbid us."
The takeaway? It might be worth your while to tap unconventional avenues for your mortgage down payment.
Jeff Ostrowski is a veteran reporter who covers real estate, personal finance and other money topics. He still remembers his banker's raised eyebrow when he wrote a check to help his girlfriend (now wife) make the down payment on her first townhouse.
You may Like
Leave a Comment
Get Money Tips Straight to Your Inbox