Can Women's Networks Really Help You Fund Your Business?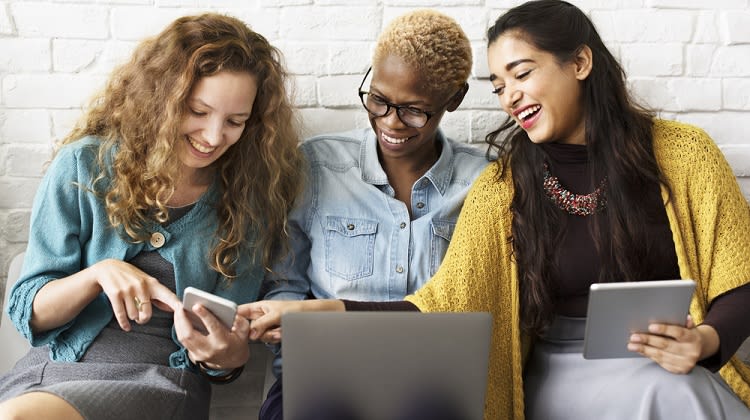 Amanda Gorman of Baltimore didn't set out to start a business in 2017. She definitely didn't plan to pitch a new company to venture capitalists at BetaCity, one of the biggest entrepreneurial events in Maryland. But due to some spontaneous women's networking, that's exactly what has happened.
"It all started with a Baltimore Facebook support group for mothers who are also business leaders called "Mobtown Mommies: Lady Bosses," Gorman explains with a laugh.
Someone had posted an article on Mobtown Mommies' Facebook page saying that iFundWomen — a crowdfunding platform for women-led startups and small businesses — was accepting applications for its first cohort of female entrepreneurs in Baltimore. Gorman had never heard of the organization, but she had an idea for a business that had been germinating for a while. After looking into iFundWomen, "I quickly realized it was too good of an opportunity to pass up," she said.
Gorman was thrilled to have her application to iFundWomen accepted, and she was thrown into the world of entrepreneurship. Over the next months she worked furiously to launch her business, Nest Collaborative, a telemedicine company providing pediatric services for families from the comfort of their homes. But even though Gorman toiled by herself from home to get her new company running, she was now enveloped in a web of support.
"They definitely didn't leave us to fend for ourselves," she said, adding that the founder of iFundWomen is consistently supportive and available. Besides mentorship, the platform also provides each cohort of 20 women a private Slack channel where they can exchange ideas, vent and help each other troubleshoot.
"I found out I was one of ten women from our cohort selected to present at BetaCity," she said. "Even though it's definitely out of my comfort zone, I'm so excited for the opportunity...I wasn't initially planning on seeking funding for quite some time, but because of iFundWomen and the extra exposure they provide, I'm able to do it much faster."
Seeking a bigger slice of the pie
Faster is good, because women are definitely behind the 8-ball when it comes to funding. On average, men start their businesses with more than twice as much capital as women. With women receiving a measly 2.2% of venture capital funding in 2018 ($127.1 billion went to all-male founders, while only $2.88 billion went to women), it's clear that female entrepreneurs confront an enormous challenge when it comes to funding.
For many women, including Gorman, the answer lies in networking. Whether it's done informally (through Facebook groups) or formally (through companies like iFundWomen), networking is one of the ways women are bridging the funding gap.
Women 2.0 staff photo (used with permission)
Another group that helps women over financial hurdles is Women 2.0, which describes itself as "the leading brand for women in tech." It is a global for-profit that aims to provide the tools and stories to close the gender gap in founding, investing, the workplace and leadership.
"A necessary evil is that women should understand what they're up against," Women 2.0 co-founder Kate Brodock said in a recent interview. "I remember early in my career, I went through the classic situation (which I now understand to be classic) of bringing a strategic idea to the table multiple times, only to be summarily ignored and watching as a male colleague brought the same idea to the table a week later and was praised...Had I been aware of this unconscious bias, I might have been able to do something about it."
Brodock told MoneyGeek that women's networks are extremely important for female entrepreneurs. "It's well known in the VC space that, in order to land meetings in front of investors, networking is an enormous, if not crucial, aspect of the process. Shaking hands, talking about your company, showing your expertise and leadership, and getting your name out there all help immensely in setting yourself up for the fundraising stage."
"When someone recognizes your name and knows you because you were active in the community and made a positive impression, your name is much more likely to bubble up to the top of their inbox when you're sending out requests for investment meetings," she adds. "This is especially beneficial for women when these meetings are unfortunately that much harder to get. Take whatever chance you can get to demonstrate your legitimacy in front of the right people."
Shannon McLay, founder of financial planning service The Financial Gym, agrees that networking and supportive mentors are essential, and are behind her success as an entrepreneur.
"When you start a business, especially in the beginning, all people really invest in is you as the entrepreneur," says McLay, whose business works one-on-one with all clients regardless of net worth.
"The first investor in my business, The Financial Gym, was my former boss and mentor from Bank of America who I had known for over 10 years. He knew my work ethic and ability to succeed in the face of adversity, so convincing him to invest in me was easy." To date, the $2 million she's raised, she says, "is a result of my network [and] my investor's networks."
Being able to talk about your challenges and frustrations is also important. Jennifer Sporzynski of CEI Maine, which supports small businesses and runs a Women's Business Center, noted that women are often reluctant to share their concerns at large networking events. For that reason, the nonprofit created smaller "curated networking" groups involving eight to 10 women who meet regularly throughout the year. Says Sporzynski, "It's one of our most popular programs to date."
Whether you are working to strengthen your network or build one from scratch, resources abound. The first step? Find the right fit. Here are some places to look:
Networking and Funding Groups for Female Entrepreneurs (a sampling)
iFundWomen
Available only in certain locations on the East Coast, iFundWomen offers female entrepreneurs with a crowdfunding platform, one-on-one mentorship and an entrepreneur "playbook" that helps founders and business owners plan their next step.
Women's Business Centers
Funded by the Small Business Administration, Women's Business Centers are available nationwide and seek to "level the playing field for female entrepreneurs." By all accounts, they're an excellent way to find mentors, connect with banks and micro-lenders, earn certifications and take free or low-cost classes in accounting, marketing and access to capital. Whether you're preparing to apply for a small business loan, need coaching or simply want to find a group of like-minded women, a Women's Business Center is a great place to start.
Xperience Connections
If you're looking for a low-cost, low stress way to start networking, Xperience Connections may fit the bill. With no fees and no pressure, Xperience Connections offers lively monthly gatherings of 20 to 25 women hosted by a fellow female entrepreneur. If you're ready for a leadership role, you can also apply to be a host.
National Association of Women Business Owners
With chapters across the country, a popular yearly conference and an online institute for learning, the National Association of Women Business Owners is an in-depth resource for women seeking to network, expand their influence and change public policy.
eWomen Network
eWomen Network boasts 118 chapters across America and a bold mission: "Help one million women entrepreneurs each achieve one million dollars in annual revenue." If you're ready to take your business to the next level with the help of your peers, this is the place.
Meetups for Women Entrepreneurs
No matter what you're interested in, there's a Meetup for it, and female entrepreneurship is no exception. Try searching for your local Meetup group and get connected with female startup leaders in your own backyard.
U.S. Women's Chamber of Commerce
This national organization is dedicated to helping women grow both their businesses and their careers. With countless resources, access to funding and members across the country, it's a time-tested way for women entrepreneurs to find additional support and connections.
Women 2.0
This is the flagship networking organization for women in tech. It creates content and scalable products and services to help close the gender gap in funding and leadership in startups; it has recently created a "Men as Allies Committee" to work on solutions together. Women 2.0 also helps match up job seekers with employers.
Taylor Milam is a contributor to MoneyGeek.com and has her own blog called Freedom from Money. She is the assistant director of communications at the University of California at San Diego.
You may Like
Leave a Comment
Get Money Tips Straight to Your Inbox