The 6 Best Personal Finance Apps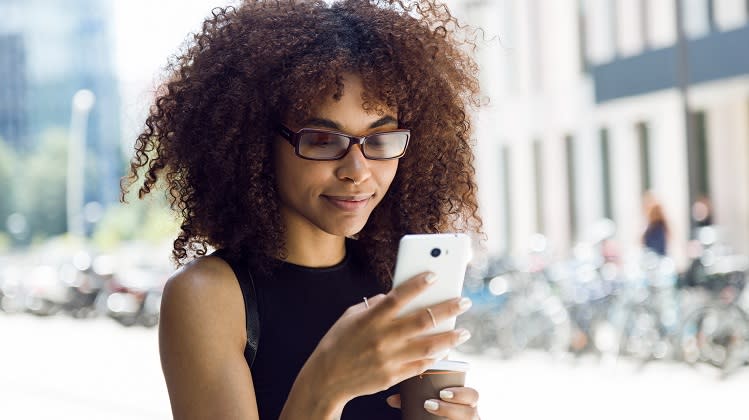 Smartphones can make it easier to do almost anything, including spending money. Fortunately, there are personal finance apps that can make it just as easy to save or invest that cash with a click of a button. Here are our picks for the best personal finance apps and how you can use them to stay on top of your money.
Best overall personal finance app — Mint
How it helps: The king of personal finance apps, Mint keeps you on top of all your personal finance information and goals.
Price: Free
Where to get it: Android, iOS
Created by Intuit, this one-stop-shop keeps track of your bank accounts, bills, investments and credit cards in a simple dashboard designed to help you manage your money.
Have trouble managing bills? Mint shows you when bills are due and lets you pay them through the app. Need help managing your spending? Set up a budget, and Mint will alert you if you overspend. You can also set personal finance goals, check your credit score or even find out if you're paying more than the average Mint customer for things like car insurance.
In addition to managing your day-to-day finances, Mint tracks your net worth on the dashboard, keeping you abreast of the big picture.
Best automated savings app — Qapital
How it helps: Your coin jar at home, Qapital encourages micro-saving to help you squirrel away money with little pain.
Price: Free
Where to get it: Android, iOS
If you have trouble saving even small amounts of money, this is the app for you. You set the rules for how the savings happen as you go about your day. Have the app round up every purchase to the nearest dollar or two, have certain activities or purchases (like a guilty pleasure) trigger savings or set up a weekly/monthly deposit. The key to this app is that it ensures you save without having to think about it.
Best app for building & protecting your credit rating — Credit Karma
How it helps: Keeps you on top of your credit report so you can maximize your score.
Price: Free
Where to get it: Android, iOS
Credit Karma is designed for people concerned about protecting and improving their credit score. Along with two free credit reports per year, the app breaks down the information that determines your score. For example, it highlights derogatory remarks, missed payments and what percentage of your credit you're using (they recommend keeping it under 30 percent).
If you think there's an error on your report, you can submit a dispute from within the app. It also provides you with alerts if there is suspicious activity on your accounts. If it looks like you're paying too much for a credit card, the app will also offer alternatives — just make sure the suggestions will really meet your individual needs.
Best app for paying down debt — Debt Payoff Planner
How it helps: Helps you customize and stick to a debt payment plan
Price: Free (Pro version available with no ads and customer support for $1 to $5/mo.)
Where to get it: Android, iOS
If your main financial goal is paying off your debts, Debt Payoff Planner offers a simple way to get you started. Once you input your debts and your monthly repayment budget, you can select what type of debt repayment strategy suits you - either by APR (the "avalanche" method), smallest to largest debt ("snowball" method) or in the order you list them.
The app then develops a payment plan for you, letting you know which debts you should prioritize, what your monthly payments should be and when you'll have each debt paid in full. If you need extra encouragement, customized weekly progress reports can be emailed to you.
Best money transfer app — Venmo
How it helps: Allows you to seamlessly transfer funds at no cost.
Price: Free
Where to get it: Android, iOS
Like its parent company, PayPal, Venmo lets you transfer money from your bank account to pay friends, family members or service providers with the touch of a button. You can also use Venmo to pay for goods and services in other apps with select PayPal merchants.
Popular with the Millennial crowd, Venmo lets you connect with Facebook friends or other contacts who are already subscribers when you sign up, making it easy when it's time to pay them for that dinner out.
Best free stock trading app — Robinhood
How it helps: Allows you to dabble in the stock market with no fees
Price: Free
Where to get it: Android, iOS
Interested in getting into the stock market, but have few resources or are leery of paying commissions? Give Robinhood a try. It allows you to purchase a wide range of stocks and exchange-traded funds with zero commission or fees. There are also no minimum investments and no hidden costs.
Keep in mind, however, that Robinhood is probably best for the newbie or casual investor. Mutual funds and bonds can't be traded. And the app doesn't allow you to invest in a retirement account — only in taxable brokerage accounts — so you should max out your retirement contributions first.
But for college students or others with only a modest amount to invest, it's a fun way to dip your toe into the stock market.
Mary Purcell is a freelance writer and health and finance researcher. She covers savings and insurance for MoneyGeek.com.
You may Like
Leave a Comment
Get Money Tips Straight to Your Inbox