Liability Nightmare on Elm Street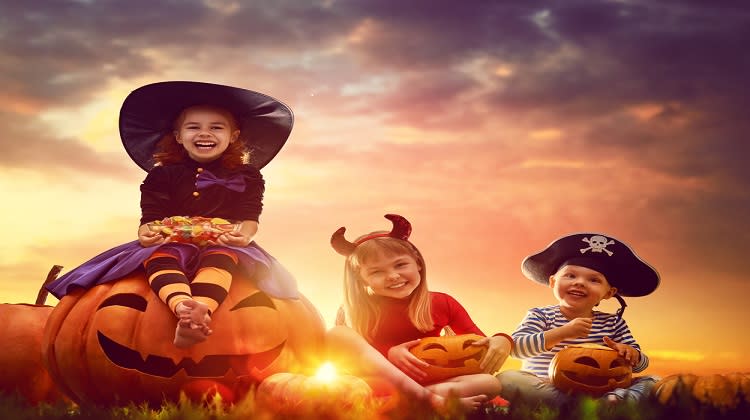 Halloween is just around the corner. Little ghouls and goblins can't wait to flood the streets, but some of the scares are real: Among other things, children are twice as likely to be hit by cars on All Hallows Eve as any other day of the year. To protect those pint-size monsters — and potentially avoid costly accidents and liability insurance claims — you'll want to take extra care to ensure that everyone has a safe night.
Here are some tips for safe trick or treating or hosting, courtesy of SafeKidsWorldwide, the National Safety Council and Madelyn Flanagan, vice president of Education and Research at the Independent Insurance Agents and Brokers of America.
Keep your stairs and walkways well lit. If you are expecting trick-or-treaters to knock on your door, make sure they can see the way to your home, Flanagan says. If your porch light isn't enough to do the job, she suggests putting a headlamp in a plastic milk jug, maybe with a ghostly face drawn on with a marker. "It's inexpensive and cool," she says.
Avoid nightmare décor. As haunting as candlelight is, avoid real candles in favor of the LCD lights variety. Remember, this is the one time of year when the person ringing the doorbell might be a tiny princess with long flowing robes or a mummy with flammable bandages. If you must have a candle in a jack-o-lantern, make sure it's securely inside the pumpkin far away from foot traffic. Better yet, use battery powered lights in your pumpkin to minimize fire risk. Some electrical candles even flicker, so you'll hardly notice the difference.
Fix trip hazards. This is a good time to repair that loose rock on your walkway that you keep stumbling on. And according to the National Safety Council, your driveway and sidewalks should be clear of hoses, leaves or other clutter that could trip up trick-or-treaters.
Rock a safe costume. If you're taking your little ones trick or treating or sending out older zombies, help them prepare for their candy-gathering crusade. Flanagan warns against costumes that are too long or come with sharp accessories. "Make sure their masks allow them to see," Flanagan says, or use face paint instead. Every costume should also have some illuminated parts, Flanagan says; that way cars can see them. According to SafeKidsWorldwide, however, only 18 percent of parents use reflective tape to light up their children.
Don't invite a spooky tort with your haunted house. Adults and children have been badly injured in haunted houses, with subsequent lawsuits. In one case in Louisiana, a 10-year-old girl broke her nose and required two surgeries after running into a cloth-covered cinderblock wall while being chased by a costumed employee of a haunted house, but judge ruled that people could reasonably expect dim lighting and unpleasant surprises in a fright house, according to an article from PropertyCasualty360. In another case, a woman sued the owners of a corn maze after breaking her leg trying to escape from an employee dressed as "Jason" from the horror film Friday the 13th (who was wielding a running chainsaw over his head).
Keep things light. Unless you want a truly frightful lawsuit, avoid trying to settle scores with neighbors by putting their names on "playful" home-made tombstones in your front yard. At least two lawsuits have been filed against homeowners who wrote allegedly spiteful inscriptions on Halloween tombstones about their neighbors' demise, which the plaintiffs viewed as threatening. (A lower court agreed with the homeowners in the case Purtell vs. Mason, although the tombstones were ruled to be free speech on appeal.) Still, why be a Halloween grinch?
Accompany your kids. There's power in numbers, for one, and trick-or-treaters are safer in large groups. Accompany kids 12 and younger and make sure they don't jaywalk, stray into the street or dart through parked cars. Encourage trick-or-treaters in your charge to steer clear of other people's pets — even a well-behaved dog can be set off by a roving pack of Power Rangers. (For the same reason, it's a good idea to keep your own pets safely inside on this night.) Also, modern trick-or-treating comes with a particular high-tech hazard. "Make sure they're not distracting themselves by being on their phone," Flanagan says.
Watch out for little ghosts. If you are driving, you'll want to be extra alert and vigilant. Not every trick-or-treater has heard the traffic safety speech, so a child in a dark costume could pop out between parked cars at any moment. Equally important, do not drive after drinking. Tragically, many drivers forget this on All Hallows Eve. "It happens a lot with adults," Flanagan says. "They go to Halloween parties, and they think, 'My house is just down the block." If you do drink, walk home or call for a ride.
After all, Halloween decorations about skeletons and graves and tombstones are supposed to be for fun. Let's keep it that way.
You may Like
Leave a Comment
Get Money Tips Straight to Your Inbox